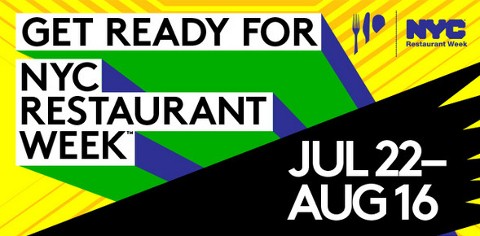 Multiple locations throughout Manhattan
July 22 - August 16
Lunch $25, dinner $38
www.nycgo.com/restaurantweek
Foodies, start your engines! Reservations lines are now open for the twenty-second annual Summer Restaurant Week, when many of Manhattan's best eateries offer special three-course menus at relatively affordable prices. From July 22 through August 16, more than three hundred restaurants will be serving $25 lunches and $38 dinners; advance reservations are strongly suggested for the more popular hot spots, which include the '21' Club, Artisanal Fromagerie & Bistro, Aureole, B. Smith's, Barbetta, Black Duck, the various Boulud restaurants, Chin Chin, Circo, City Hall, Devi, Esca, Frankie & Johnnie's, Gotham Bar & Grill, HanGawi, Hospoda, I Trulli, Il Mulino, and Indochine, and that's just the beginning of the alphabet. Many of the places have their special Restaurant Week menus posted online so you'll know exactly what's on tap, but you better book fast.