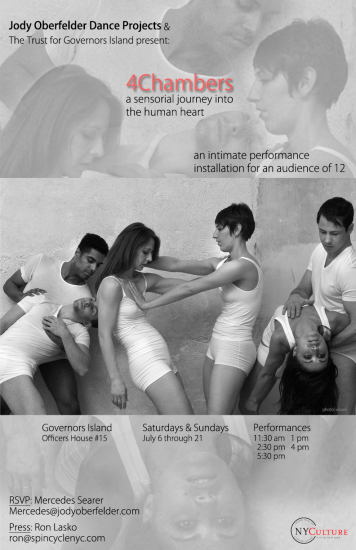 4CHAMBERS
Governors Island, Officers House #15
Saturday & Sunday, July 6-21, free with advance RSVP, 11:30 am, 1:00 pm. 2:30, 4:00, 5:30
www.govisland.com
www.jodyoberfelder.com
Following a successful Kickstarter campaign, choreographer and filmmaker Jody Oberfelder (Throb, Re-Dress, Come Sit Stay) and her Dance Projects company are ready to present the opening of their latest piece, the site-specific 4Chambers. Six dancers will lead an audience of twelve through hallways, corridors, and four main rooms of Officers' House #15 on Governors Island, equating the human heart with that of the structure, which boasts a historic past. Oberfelder has reimagined the ghostly quarters as the circulatory system, with the chambers representing the visual, the physical, the synaptic, and the pulsing. Meanwhile, the "artery of knowledge" features films and scientific displays about the heart. "We want the audience to feel their own hearts, to feel something inside, something you can't see or touch," Oberfelder says about the work, which she calls "a sensorial journey into the human heart." The multimedia piece will be performed live by Michele Jongeneel, Mary Madsen, Zachary Denison, Jake Szczypek, Joey Kipp, and Mercedes Searer; appearing in the films are Edward Einhorn, Ishmael Houston Jones, Dr. Wendy Suzuki, Dr. Andre Fenton, Kathryn Merry, Sarah Parton, Lonnie Poupard, ChristinaNoel Reaves, and Jessica Weiss. Juergen Riehm designed the set, with music by Andy Akiho, Richard Einhorn, Matt McBane, and Jonathan Melville Pratt and videos by Jason Bahling and Jake Witlen. Admission is free, but advance RSVP is required; two more preview performances are scheduled for July 5 at 12 noon and 1:30, after which 4Chambers runs Saturdays and Sundays, July 6-21, at 11:30, 1:00, 2:30, 4:00, and 5:30.