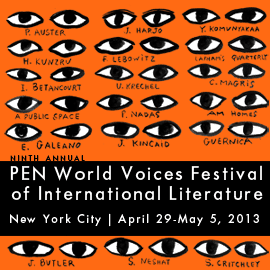 Multiple venues
April 29 - May 5, free - $30
www.worldvoices.pen.org
"Without literature, it's all just words," PEN America president Peter Godwin writes in his opening letter to the ninth annual PEN World Voices Festival of International Literature. The organization that fights for freedom and first amendment rights this year celebrates the idea of bravery in art, politics, and personal everyday life during the weeklong festival comprising more than fifty readings, live performances, discussions, workshops, master classes, and more. Below are just some of the many highlights for this annual tribute to the power of the written word and how it can and does make a difference throughout the world, featuring such participants as Martin Amis, Joy Harjo, Paul Auster, Ai Weiwei (via Skype), Salman Rushdie, Sapphire, Sonia Sotomayor, Lewis Lapham, Amy Wilentz, Naomi Wolf, Fiona Shaw, Oskar Eustis, Fran Lebowitz, Edna O'Brien, Colm Tóibín, Lynne Tillman, and many more at such venues as Joe's Pub, the New School, the Standard, and NYU.
Monday, April 29
Opening Night Reading: Bravery, with A. Igoni Barrett, David Frakt, Darrel Vandeveld, Joy Harjo, Jamaica Kincaid, Ursula Krechel, Earl Lovelace, Vaddey Ratner, Mikhail Shishkin, and Najwan Darwish, hosted by Baratunde Thurston, the Great Hall of the Cooper Union, $20, 7:00
Tuesday, April 30
2013 PEN Literary Gala, with Philip Roth, American Museum of Natural History, $1,000, 7:00
An Evening with McSweeney's, with Francisco Goldman, Clancy Martin, Wyatt Mason, José Luís Peixoto, Francesco Pacifico, and others, Joe's Pub, $15, 9:00
Wednesday, May 1
Bravery in Poetry, with Hilton Als, Paul Auster, Henri Cole, Edward Hirsch, Mary Karr, Yusef Komunyakaa, Eileen Myles, Sapphire, and others, Tishman Auditorium, the New School, $30, 7:30
Speaking in Languages on the Edge, with Gillian Clarke, Joy Harjo, Natalio Hernandez, Bob Holman, and others, Joe's Pub, $15, 9:30
Thursday, May 2
Master/Class: Jamaica Kincaid with Ru Freeman, Tishman Auditorium, the New School, $20, 6:30
Master/Class: Sapphire with Nicole Sealey, Tishman Auditorium, the New School, $20, 8:30
Obsession: Andrew Solomon on Sleep, with Andrew Solomon and Joan Golden-Alexis, hosted by Katie Halper, the Standard, East Village Hotel, $20, 9:00
Friday, May 3
African Writers Workshop with Igoni Barrett, NYU Africa House, 10:00 am
The Literary Mews: Outdoor Indie Book Fair (with readings by Epiphany magazine, Four Way Books, St. Petersburg Review, Gigantic magazine, and Open Letter Books), presentation by photographer Nancy Crampton, Irish Song Workshop with Pádraig Ó Cearúill, Magically Grimm: German Folk Songs with Tine Kindermann & Band, Kasperl-Puppet Theater, The Griot: African Storytelling, and Chapbook Binding, Washington Mews, NYU, free, 10:00 am – 4:00
The Testament of Mary: A Discussion on the Broadway Show, with star Fiona Shaw, writer Colm Tóibín, and director Deborah Warner, moderated by Jeremy McCarter, Tishman Auditorium, the New School, free, 1:30
The Novelist as Truthteller: The Achievement and Legacy of Vasily Grossman, with Agata Tuszynska and Martin Amis, moderated by Edwin Frank, the Public Theater, $15, 6:30
A Literary Safari, with Michal Ajvaz, Nadeem Aslam, Loree Burns, Dror Burstein, Gillian Clarke, Mia Couto, Eduardo Halfon, Natalio Hernandez, Nick Holdstock, Randa Jarrar, John Kenney, Tararith Kho, Jaime Manrique, Margie Orford, Jordi Punti, Noemi Szecsi, Padma Venkatraman, Gerbrand Bakker, James Kelman, Téa Obreht, and others, Westbeth Center for the Arts, $15, 6:30
Master/Class: Fran Lebowitz with A. M. Homes, Tishman Auditorium, the New School, $20, 6:30
Saturday, May 4
Asia Society Presents: Monkey Business, with Paul Auster, Mina Ishikawa, Genichiro Takahashi, and Charles Simic, facilitated by translators Motoyuki Shibata and Ted Goossen, Asia Society, $12, 2:00
Revitalizing Endangered Languages, with Gillian Clarke, Natalio Hernandez, Daniel Kaufman, and Lorna Williams, moderated by Nick Holdstock, the Public Theater, $15, 3:00
An Evening with Lapham's Quarterly, with Lewis Lapham, Oskar Eustis, Maryann Plunkett, Jay O. Sanders, and others, Joe's Pub, $15, 7:00
Obsession: Naomi Wolf on Truth, with Naomi Wolf and Ben Schrank, hosted by Katie Halper, the Standard, East Village Hotel, $20, 9:00
Sunday, May 5
Granta: 2013 Best of Young British Novelists, with Hari Kunzru, Sigrid Rausing, John Freeman, and several 2013 Best Young British Novelists, Joe's Pub, $15, 2:00
Burma: Bones Will Crow, with Khin Aung Aye, James Byrne, and Zeyar Lynn, moderated by Phillip Howze, the Public Theater, $15, 3:00
Arthur Miller Freedom to Write Lecture: Sonia Sotomayor, the Great Hall of the Cooper Union, $30, 5:00