THE LITTLE FLOWER
Dicapo Opera Theatre
184 East 76th St. between Lexington & Third Aves.
March 11-29, $50
www.tonylobianco.com
They don't come much cooler and classier than Tony Lo Bianco. The longtime star of stage and screen has appeared in such films as the cult classic The Honeymoon Killers with Shirley Stoler, the Academy Award-winning The French Connection with Gene Hackman, and The Juror with Alec Baldwin and Demi Moore in addition to such Broadway shows as A View from the Bridge and The Goodbye People as well as off-Broadway productions of Waiting for Godot, The Threepenny Opera, and Yanks 3 Detroit 0 Top of the Seventh, which earned the Brooklyn native an Emmy. Since 1984, Lo Bianco has been portraying former congressman and three-term New York City mayor Fiorello La Guardia in an evolving series of shows that have included Fiorello! The Musical, Lo Bianco's La Guardia, and Hizzoner! His latest one-man presentation, The Little Flower, runs March 11-29 at the Dicapo Opera Theatre. The show, which takes place in La Guardia's office on his last day as mayor, recently made news when Republican mayoral candidate and Gristedes head John Catsimatidis bought up ten performances as a fundraiser; tickets are still available for March 22, 23, 27, 28, and 29. Lo Bianco, now seventy-six, spoke to us from his Central Park West home as he was preparing to leave for DC to perform The Little Flower to an invite-only crowd at the US Navy Memorial Theater on Pennsylvania Ave.
twi-ny: This is a busy time for you. How are you doing?
Tony Lo Bianco: I'm terrific. Today we're leaving for Washington, and that's really exciting. It's like hitting the pinnacle, except if I had the president in front of me. [laughs]
twi-ny: You've performed variations of this play in New York and elsewhere. Is Washington a different kind of crowd, since it's a more political-heavy audience?
Tony Lo Bianco: We're gonna see, and I think you're right. There's going to be a lot of military there too. In New York, the people who are going to come and see La Guardia have a political background and interest as well; they're not coming to some musical comedy that they believe is going to be "that kind of entertainment." We're going to talk about issues, and I'm very excited about that.
twi-ny: The show goes back to Hizzoner in 1984 and has gone through several incarnations since. How has The Little Flower changed from that original production?
Tony Lo Bianco: The original one we did in Albany in '84 was more of a valentine to Fiorello. It was filmed by WNET, and we received five Daytime Emmys, including one for Mayor Koch, who narrated it. But it didn't touch on what I'm touching on now. I'm addressing all the issues, and through its incarnations, I've changed it and tried to keep up with what La Guardia was doing and thinking at the time as a congressman and all the way past when he was mayor.
I use that mind, that Fiorello mind, and the fact that he was a fusion candidate – which is a key word in our politics today – a fusion candidate because the way we're set up right now, we're never going to get anything done. Nobody can agree on anything. The two parties are so far away from each other, we've really made a dividing line in our country. So the idea of bringing people together is to be a fusion candidate, which is what La Guardia was. He ran as a Republican because the Democrats at that time were just loaded with corruption; Tammany Hall was in power for 136 years when Fiorello finally ran against them in Congress and beat them after a second attempt. From that perspective, he was able to say things like – and if any candidate says this today, it'll go a long way – "If I don't live up to my campaign promises, I want you to throw me the hell out of office."
twi-ny: You don't hear that anymore.
Tony Lo Bianco: No, no, no, because it's a load of "Scratch my back, I'll scratch yours" and so on and so forth. You need a maverick, like he was, a real maverick, who is not beholden to anyone except the people. And the message has to get out to the people to bypass both parties.
twi-ny: The word bipartisanship has become a joke.
Tony Lo Bianco: Yeah, it's just foolishness. But when you show people that you hire, as La Guardia did – he said, "I'll hire people from both sides, even if they voted against me…." I think that kind of attitude – you know, they try to scratch the surface once in a while. Like this administration right now is putting up a fake Republican in Chuck Hagel. It's like a joke. They did it back in Clinton's time with William Cohen for Secretary of Defense. In the play, I address many issues that are plaguing us in every which way, whether it's inflation, whether it's unemployment, juvenile delinquency, all kinds of corruption in government.
twi-ny: All of which is still relevant today.
Tony Lo Bianco: That's why I've redone the whole show and made it very relevant to almost everything that I say. It pertains to what our faults are today and how to fix them – not just bringing them up but bringing them up in a way that is undeniably the truth. Because, and I say this from experience, when the far left or the far right comes to see my show, they both believe I'm talking to them. And that's wonderful. I mean, I've had that demonstration right in front of my eyes – the far left wanting to buy a show so they can promote their point of view, and the far right has done the same thing. So I must be doing something right.
twi-ny: It also says something about the mayors of New York who have served three terms – primarily La Guardia, Koch, Bloomberg, all of whom appealed to Republicans and Democrats, who ran on both sides of the ticket or switched affiliation. The Little Flower takes place on the last day of La Guardia's third term. Are three terms too many?
Tony Lo Bianco: You know, it depends on what kind of a great job we need. We're so desperate for congressmen or mayors who are just terrific that if they're indispensable, then they should stay, because we have a lack of quality people to represent us, which is just awful. It's just remarkable how hungry and starving we are for leaders. I do think that if we find a gem, the term should be extended. However, history has proven that that's not to be the fact – especially when they're crooked thieves [like Tammany Hall]. That is the biggest problem. How do you regulate that?
Look what they're doing in other countries as well. I just spoke with someone from Italy yesterday; people are beside themselves, and it's just handwriting on the wall for us. Europe is just handwriting on the wall for us, and if we don't pay attention, we're going to do the same kind of – we're doing the same kind of thing. You can't say we're going to. We are in the process of doing the same kind of thing as Europe. And my biggest personal thing is history is our greatest teacher. To me, if you don't follow history, you don't understand history, you're going to be an idiot. You're going to be a fool. You're going to make the same stupid mistakes.
We should be the smartest country in the world. We have all that magnificent history behind us. There's thousands of years there of understanding what happens to governments, what happens to empires. It's right in front of us. We're not inventing the wheel. Tell me, how do we get sixteen trillion, five hundred billion dollars in debt? How does that happen? You think somebody just wakes up one day and says, "Oh my God, is that the figure?" That's the way we seem to be behaving.
twi-ny: We're fiddling while Rome burns.
Tony Lo Bianco: That's right. Is that not the biggest issue? That is like a meteor going to crush us one of these days. The public is concentrating on making a buck just to put food in their mouths – they can't be thinking about sixteen trillion, five hundred billion dollars, or that their children and grandchildren are going to pay for that.
twi-ny: Do you feel that if La Guardia ran today, based on the same platforms, we would elect him to fix things?
Tony Lo Bianco: I'm fighting like a son of a gun to do something like this and try to, for want of a better word, teach this kind of understanding of sacrifice and giving and helping and doing for the public. It's in my genes to do that; I personally love doing that, and I picked this character to shove it out to the public. But I don't know if this public is ready for this anymore because they're so busy with what they're doing. They just have to realize what I'm saying and realize the reality of what is happening to them and somehow be strong enough – I say "somehow" because they've been led this way to thinking, "Hey, I can only think about tomorrow. "Gimme gimme gimme. What are you gonna give me? What? Oh, good. I don't have to work. How many weeks unemployment? Ninety-nine? Weeks? Oh, wow. I think I'll take a part-time job while I'm receiving that money – that would mean much much more money than I ever earned."
twi-ny: You're sounding like a conservative Republican. Are you?
Tony Lo Bianco: No, I'm trying to talk common sense. Common sense and logic. Another thing La Guardia said as a congressman was about labels. He said, "I've been called a pacifist, a Communist, a Socialist, a radical, a Republican, a progressive, a Democrat, a conservative, a rebel, and a demagogue. That sounds like I'm a well-rounded fella, don't ya think?" [laughs] That's in my play. I cover anything that anybody could say or think, but the idea of that stuff I spouted is it might sound Republican, but it's common sense, isn't it? Someone tell me where I've gone wrong in saying what I just said.
twi-ny: Well, one of the things you did say was "well-rounded," and "well-rounded" is something you are when playing La Guardia. Here's Tony Lo Bianco, this elegant-looking, smooth-talking guy from The French Connection, The Seven-Ups, Blood Brothers, and you're prancing around the stage in this fat suit, telling jokes, singing. That's something different for you.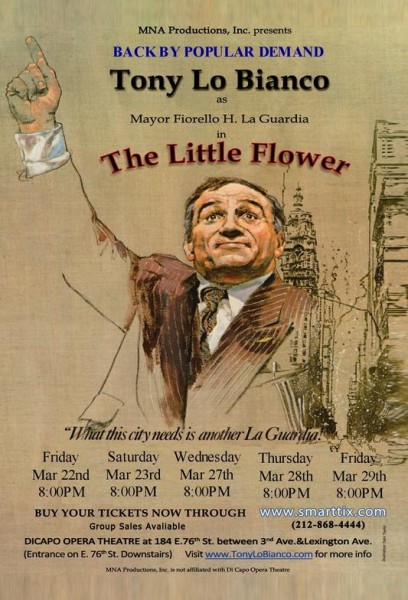 Tony Lo Bianco: You see, I love that. That's what I do. I mean, I love to play other human beings. The roles that I've portrayed – there's a whole gallery of different characters I've played, different humans, different tempos, different sizes and shapes. But yes, for the general public, who see me as you just described, which is pretty much the movies and stuff, it is a revelation. When you come and see the show, please, you must come and say hello to me and see the difference of this guy who is prancing around, as you say [laughs]. And I am prancing around and doing all those things.
twi-ny: You've also done several sports films. You were a Golden Gloves boxer, you played Rocky Marciano – do you still follow sports?
Tony Lo Bianco: Oh yeah, I'm a big fight fan. I'm a big baseball fan.
twi-ny: You did Yanks 3 Detroit 0 Top of the Seventh, which you won an Obie for.
Tony Lo Bianco: I loved that.
twi-ny: So I gather you're a Yankees fan?
Tony Lo Bianco: I'm a Yankees fan, but actually I'm a New York fan. I want them both to win. My ideal, of course, is for the both of them to be in the World Series.
twi-ny: That's a tough place to be.
Tony Lo Bianco: I'm a baseball fan. I like to watch excellence and achievement and great players who respect the game, respect themselves, respect the country. Whether they're a sports hero, or any kind of hero, whether it's an actor, whatever, they should really understand that they are a public figure and they should be an example to the children and everybody else in the world of how to behave. They must all be tremendously grateful for having the opportunity today in earning the kind of money that these athletes earn, which is rather enormous.
twi-ny: Regarding the steroids controversy, should Mike Piazza have been elected to the Hall of Fame?
Tony Lo Bianco: There is no proof, no evidence against Piazza. That kind of stigma in this country is terrible. Even Roger Clemens – Roger Clemens has been cleared. I just saw a thing in the newspaper that labeled him a disgrace. What disgrace? He was cleared, and anybody who's cleared is cleared. And as far as Mike Piazza, he certainly should be in the Hall of Fame. But as far as those who have used drugs and steroids, no, they should not be in the Hall of Fame.
twi-ny: Boxing isn't the cleanest of sports either.
Tony Lo Bianco: Back in the day there were definitely things going on, when the mob was involved. I don't know what's going on now. You never know. You got promoters promoting both fighters. Who the heck knows what's going on? But some of the fights are pretty vicious, so it makes you wonder, "Can this fight possibly be fixed?" It doesn't look like it.
twi-ny: You're a Brooklyn boy.
Tony Lo Bianco: Yes.
twi-ny: What do you think of the new Brooklyn, which has spread out to Bushwick and Red Hook, and now you've got the Nets playing where Branch Rickey wanted to put the Dodgers?
Tony Lo Bianco: You know, one person's progress is another person's disaster, and I address that also in the play, because La Guardia had to build low-cost housing, and he had to take that land from somewhere. You know, I am so thrilled to have grown up having nothing. My father was a taxicab driver, so we understand where we came from – we never forget that – and I'm grateful for all that wonderful experience. I would call it "home education" – when I say "home education," I mean because I had uncles, and aunts, and grew up in a big family, and the headquarters was my house in Brooklyn. Every Sunday, everybody would come over to see my mother and all her brothers, and that kind of life teaches you more than any school or college can teach you. I'm so grateful for that, and it's given me my best quality, which is certainly not my academic understanding but my human understanding, of people and conditions, and maybe, in a funny way, that's why I relate to La Guardia, and why I picked La Guardia, because he's a man of the people, for the people.