SANDY BENEFIT CONCERT
powerHouse Arena
37 Main St. at Water St., Brooklyn
Monday, February 25, $20, 7:00
718-666-3049
www.powerhousearena.com
www.johnpizzarelli.com
"What they don't tell you when you sign up to become an author is how many times you will end up reading your own book," jazz guitarist and vocalist John Pizzarelli writes in the finale to his first book, World on a String: A Musical Memoir (Wiley, October 2012, $26.95). "I can also tell you that I have been around the block so many times with this manuscript that I'm beginning to have issues with this vaguely familiar John Pizzarelli character who seems to get a lot of airtime in this book." The son of legendary musician Bucky Pizzarelli, John, now fifty-two, has been recording original songs and covering standards for more than thirty years, playing with such greats as Skitch Henderson, Paul McCartney, Rosemary Clooney, James Taylor, and many others, including his wife, Jessica Molaskey, and his father. On his most recent record, Double Exposure (Telarc, May 2012), John reinterpreted a wide range of jazz, pop, rock, and folk classics by the likes of Neil Young, the Beatles, Elton John, Elvis Costello, Steely Dan, and the Allman Brothers.
For his memoir, Pizzarelli teamed up with longtime friend Joe Cosgriff, who wrote one of Pizzarelli's most popular hits, "I Like Jersey Best." (The book includes a riotous section on how John and Bucky went to the Jersey State Assembly when the tune was being considered for official state song.) John and Joe, a pair of Jersey-born Red Sox fans who are both proud members of the Yankee-hating BLOHARDS group, will be at powerHouse Arena in DUMBO on Monday night, February 25, in a benefit for the Brooklyn institution, which suffered significant damage from Hurricane Sandy. Pizzarelli will read from and sign copies of World on a String and will perform a rare solo set. Admission is a mere twenty bucks for what should be a unique and wonderful evening. Pizzarelli and Cosgriff recently discussed their collaboration, the Boston Red Sox, meatballs, and Sandy with twi-ny.
twi-ny: You've been friends for some thirty years; how did the writing process go?
Joe Cosgriff: It took us a little while to hit our stride. We started out face-to-face, which was a blast but didn't produce finished pages. And John submitted about a third of the book in written form. But what worked best were the voice files and CDs he sent from the road. They were hilarious, and John's prodigious output of these helped us catch up with the publisher's deadlines.
John Pizzarelli: That's it! Mostly we wrote about what subjects Joe thought we should explore. Then for a follow-up I would put more exact answers onto a CD.
twi-ny: Were there moments that you wanted to kill each other?
JP: Joe was really great about specific things he may have gotten wrong. If I said, "I think it happened this way," he was more than happy to fix things. So there was no head banging, sorry to say.
JC: John and I have collaborated on projects previously, although nothing as ambitious as this one in terms of sheer volume. We had other bumps in the road — three editors and counting — but never any issues with one another. He is a natural storyteller, worked hard on the book, and he helped to make the experience about as enjoyable as it could be.
twi-ny: When will you be starting on the sequel?
JC: Sequel? We need to do a better job of letting people know about this book first.
JP: Agreed!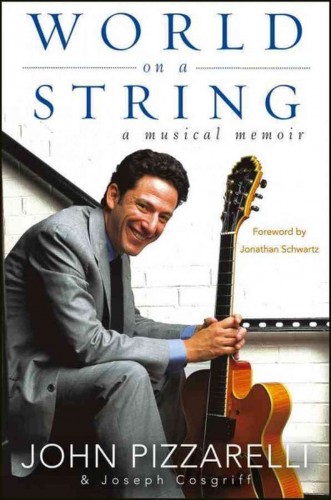 twi-ny: You're both Jersey boys who love the Red Sox and live in New York City. That can't be easy.
JC: It's not an easy road and not one I'd recommend. Yankee Stadium, especially the previous one, was not hospitable. But our little club, the BLOHARDS, has a lot of fun at our two annual luncheons, and John and I have a good time preparing the material. "My Bobby Valentine" was one of last year's best songs.
JP: My first recollection of baseball was the '67 World Series [between Boston and St. Louis]. I loved the look of that Red Sox team, especially [Carl] Yastrzemski. Since there were no Red Sox uni's then available in New Jersey, I was [Yankees second baseman] Horace Clarke for about a year, till about 1981-ish, when the Yanks fired Dick Howser.
twi-ny: John, you've put out dozens of albums and played thousands of shows. How has public and critical reaction to the book compared to what you've gotten throughout your career as a musician?
JP: The entire routine is like putting out a CD and waiting for the reviews, etc. The book has been largely well received, which has been a very pleasant surprise.
twi-ny: Joe, you worked for a printing company for several decades before recently retiring. What's it like to have your name on the cover of a book for the first time, after having printed so many millions with others' names on them?
JC: Good question! The best part of this "author thing" has been hearing from people who connected emotionally with the book. A couple of people at John's shows had tears rolling down their faces talking about what we wrote about Zoot Sims and Dave McKenna. Those experiences have been powerful and unexpected.
twi-ny: How were John's son Johnny's meatballs at the annual Birdland after-party? I understand that they were not made at their usual location, Cosgriff's kitchen.
JP: We did use Joe's stove for an earlier meatball fest. I had to get out of there, though. I didn't want to get used to that stove; it's tremendous. When we do anything at Joe's, wine tasting, meatballs, or book editing, he plays the best music — Zoot Sims, Anita O'Day, Oscar Peterson.
JC: Johnny is a meatball machine at this point. There were some time constraints this time with the Birdland gig, so they did the prep on the West Side. And the prep is half the fun. One common denominator about parties with Johnny's meatballs — no leftovers!
twi-ny: John is playing a Sandy Benefit Concert at the powerHouse Arena in DUMBO on February 25. Were both of you affected by the hurricane, either directly or indirectly?
JP: I was lucky on the Upper West Side. Our cabin up north lost power for two weeks — lost some oxtail ragu that was in the freezer, but nothing else too bad. I am happy to help out any way I can to those affected much worse than I was.
JC: My apartment lost power for five days, but this was nothing compared with the devastation sustained by friends of ours in Brooklyn. And I am traveling this week in California with friends from the Jersey Shore whose home still needs significant repairs. When we heard about the damage to powerHouse, we told them we'd like to help, and that is how this event came about.