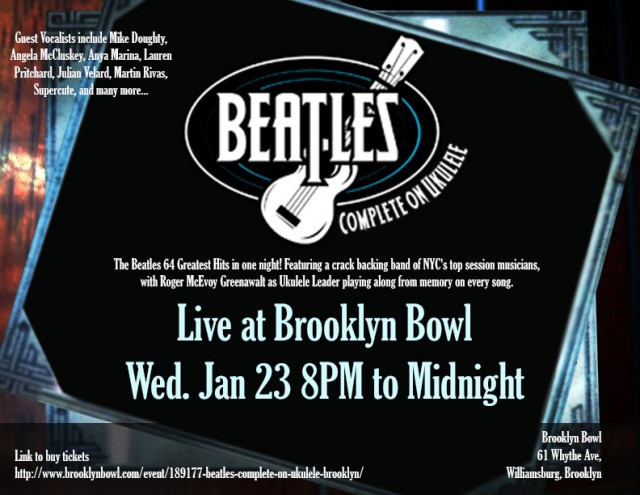 Brooklyn Bowl
61 Wythe Ave.
Wednesday, January 23, $10, 8:00 pm - 12 midnight
718-963-3369
www.brooklynbowl.com
www.beatlescompleteonukulele.com
Although we can listen to the Beatles for days on end, hearing the Liverpool quartet on ukulele is a very different thing. In its first years, the annual Beatles Complete on Ukulele has gone on for more than twelve hours, but the 2013 edition, taking place January 23 at Brooklyn Bowl, runs only from 8:00 to midnight, a mere 240 minutes of Beatles classics. Producer Roger Greenawalt has pared down this year's concert in theme as well, consisting of the Fab Four's sixty-four greatest songs. Among the dozens of performers are Supercute, Mike Doughty, Martin Rivas, Terre Roche, Joy Askew, Lauren Pritchard, Izzy and the Catastrophics, Angela McCluskey, Reno Is Famous, the Ramblers, Kayce McGehee, and many more, teaming up with the Angry Buddhists East Band, featuring Greenawalt on ukulele, Sal Mander, Ethan Eubanks, Genji Siriasi, and Mike Bellusci on drums, Ben Rubin, Brett Bass, and Shawn Fogel on bass, Chris Foley, Jeremiah Birnbaum, Izzy Zaidman, and Andy Bassford on guitar, and Craig Greenberg and Lee Feldman on keyboards. So head on out to Brooklyn to hear John, Paul, George, and Ringo's repertoire as never before, and come prepared to argue over just what constitutes their best sixty-four tracks.