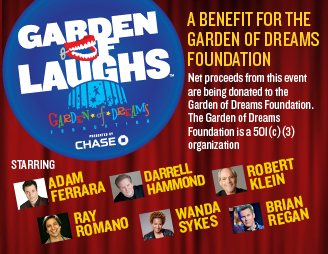 A BENEFIT FOR THE GARDEN OF DREAMS FOUNDATION
The Theater at Madison Square Garden
31st – 33rd Sts. between Seventh & Eighth Aves.
Saturday, January 26, $50-$125, 8:00
www.theateratmsg.com
www.gardenofdreamsfoundation.org
Founded in 2006, the Garden of Dreams is a nonprofit charity that exists "to make dreams come true for kids facing obstacles." Headed by chairman Hank Ratner and with a board of directors that includes Whoopi Goldberg, Darryl McDaniels, Matthew Modine, Drew Nieporent, and Barry Watkins, the Garden of Dreams makes terrific use of the athletes, celebrities, and venues affiliated with Madison Square Garden while also partnering with such other charitable organizations as the Make-a-Wish Foundation, the Children's Village, the Children's Aid Society, and the Harlem Dowling West Side Center for Children and Family Services, among others. On January 26, the Theater at Madison Square Garden will host an all-star comedy jam, the Garden of Laughs, a night of stand-up comedy from some of the best in the business, as a fundraiser for the Garden of Dreams Foundation. The event will be hosted by sportscaster Bob Costas and feature performances by Robert Klein, Ray Romano, Wanda Sykes, Brian Regan, Darrell Hammond, and Adam Ferrara. Tickets range from $50 to $125 and are on sale now, so pick some up and laugh your head off while supporting a great local cause.