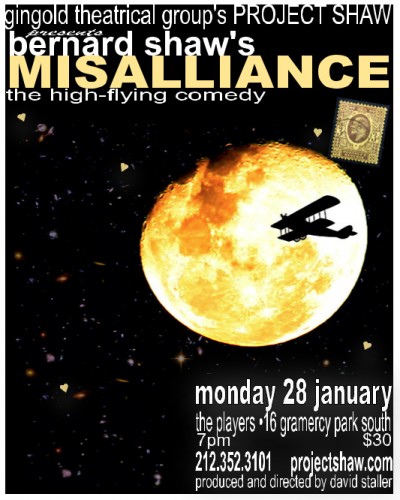 The Players Club
16 Gramercy Park South
Monday, January 28, $30, 7:00
www.projectshaw.com
"All this damned materialism: what good is it to anybody?" Tarleton says in George Bernard Shaw's Misalliance: A Debate in One Sitting. "Ive got a soul: dont tell me I havnt. Cut me up and you cant find it. Cut up a steam engine and you cant find the steam. But, by George, it makes the engine go. Say what you will, Summerhays, the divine spark is a fact." The New York-based Gingold Theatrical Group has been keeping Shaw's divine spark lit since January 2006, when founder and artistic director David Staller began Project Shaw with the mission "to carve a permanent niche for the work of George Bernard Shaw within the social and cultural life of New York — to bring his canon and humanist precepts to larger audiences and encourage people to practice these ideals in their daily lives." By December 2009, Project Shaw had performed all sixty-five of Shaw's plays, but that didn't stop them, as they continue to present Shaw to the public at the Players Club on monthly Mondays. The 2013 season kicks off on January 28 with the sociopolitical comedy Misalliance, featuring Richard Easton as Lord Summerhays, Jay O. Sanders as John Tarleton, Maryann Plunkett as Mrs. Tarleton, Alison Fraser as Lina, Robert Creighton as Julius "Gunner" Baker, Wesley Taylor as Bentley, Hannah Cabell as Hypatia, Jon Fletcher as Johnny Tarleton, Zachary Spicer as Joey Percival, and Maggie Buchwald as the Narrator. The season continues with Caesar and Cleopatra on February 25, a St. Patrick's Day Gala on March 17, Admirable Bashville on April 29, Mrs. Warren's Profession on May 20, and Too True to Be Good on June 24. All tickets are $30 and should be reserved in advance. "We are made wise not by the recollection of our past but by the responsibility for our future," Shaw once explained, and in many ways that is precisely what Project Shaw is all about.