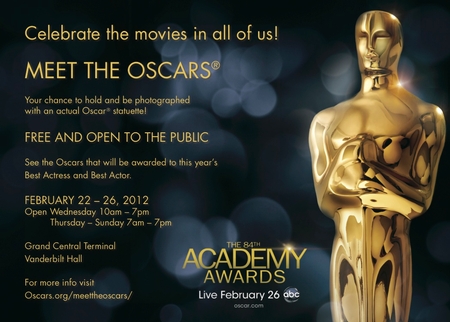 Grand Central Terminal
Vanderbilt Hall
February 22-26, free
www.oscars.org
www.grandcentralterminal.com
On Sunday night, Demián Bichir, George Clooney, Jean Dujardin, Gary Oldman, and Brad Pitt will be battling it out to take home the Best Actor Oscar, while Glenn Close, Viola Davis, Rooney Mara, Meryl Streep, and Michelle Williams will have their eyes on the Academy Award for Best Actress. But you can get your picture taken with a real statuette before the stars do at the annual "Meet the Oscars" exhibition at Grand Central Terminal. From February 22 to 26, visitors to Vanderbilt Hall can pose while holding an actual Oscar and gaze upon the gold trophy won by Michael Douglas as Best Actor for the New York-set 1987 film Wall Street. Manhattan native Melissa Leo, who was nominated for Best Actress for 2008's Frozen River and took home last year's Best Supporting Actress award for her role as the mother in The Fighter, will cut the ribbon on the exhibit on Wednesday morning at 10:00. While the display will remain up through the weekend, the Best Actor and Best Actress statuettes will be on view for only a few days, as they have to be sent back to Hollywood on Saturday to get ready for Sunday night's competition. Also on view will be a number of Oscars in various stages of completion.