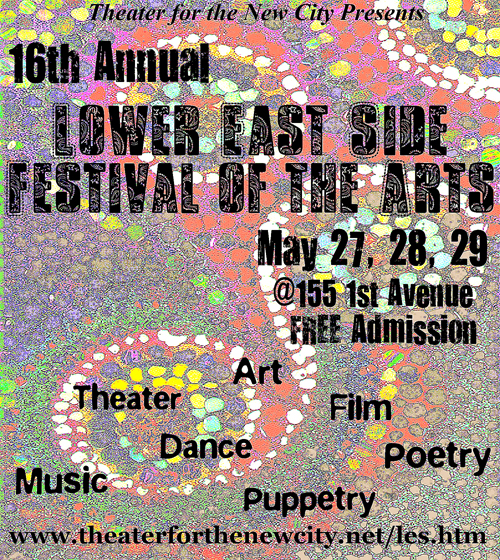 Theater for the New City
155 First Ave. between Ninth & Tenth Aves.
May 27-29, free
www.theaterforthenewcity.net
The sixteenth annual Lower East Side Festival of the Arts runs May 27-29, three days of experimental, cutting-edge, and campy performances based at the Theater for the New City. You can catch just about any kind of artistic discipline you want, from music, dance, and poetry to film, comedy, theater, and puppetry, and it's all free. Held in TNC's Cabaret Theater, Johnson Theater, Community Space Theater, and lobby as well as outside on East Tenth St., the festival includes Michael Patrick Flanagan Smith performing songs from his upcoming play Woody Guthrie Dreams, Tony-winning actress-singer Tammy Grimes, Maariana Bekerman Dance Company, Ben Harburg singing Songs of Social Comment by his grandfather Yip Harburg, spoken word by Jennifer Blowdryer, Unstuffy Divas Mary Riley and Jennifer Gelber, Reno, Barbara Kahn's The Book of Merman, Kalpulli Atl-Tlachinolli re-creating an Aztec dance ritual, an excerpt from Jonathan Slaff's The Adventures of Siggy and Carl about Freud and Jung, an Urban Aerial Fairytale by Suspended Cirque, an excerpt from Stephen Adly Gurgis's The Last Days of Judas Iscariot, Josh Fox's documentary Gasland, Lei Zhou and Natalia Korablina in Alan Ball's The M Word, Elijah Black's Fresh Fruit Festival, Micha Lazare's Lazer Lady and the Buddha Babies, Robert Adanto's film Pearl on the Ocean Floor, and an unpublished one-act play by Lanford Wilson in addition to the New York School of Rock, JT Lotus Dance Company, Supercute, Yana Schnitzler's Human Kinetics Movement Arts, the Stop Shopping Gospel Choir's James Solomon Benn, John J. Zullo Dance, David Amram, the Constellation Moving Company, Roger Manning, Jessica Delfino, Penny Arcade, Taylor Mead, KT Sullivan, the one and only Joe Franklin, and dozens more.