Fontana's
105 Eldridge St. between Grand & Broome Sts.
Wednesday, May 18, free, 7:00 – 9:30
212-334-6740
www.fontanasnyc.com
www.theweekendstartsonwednesday.blogspot.com
We've known Andrew Giangola since we were kids, playing baseball in the street, sledding down what we thought were enormous hills in the local park, and going to semipro football games. Although New York is far from the center of the auto racing world, we did go to the track once, when a cigar-chomping family friend took us behind the scenes and into the pit. That apparently rubbed off on Giangola, who was the director of communications for NASCAR for nine years, traveling around the country chaperoning star drivers and meeting the fans. Last February he turned his adventures into an entertaining book, The Weekend Starts on Wednesday: True Stories of Remarkable NASCAR Fans, which looks at dozens of NASCAR's most dedicated fanatics, from movie icons and beauty queens to military heroes and astronauts, from news anchors and celebrity chefs to an acrophobic mountain climber and a dude who wears nothing but a tire.
"After sleeping in their buses, watching races in their homes, spending countless hours on the phone, sitting in the grandstands, and walking campgrounds on the circuit," Giangola writes in the introduction, "I'm convinced NASCAR's 'core' fans are a special, different breed…. I want to perpetuate a new stereotype of NASCAR fans. They are, at their core, very good people." Giangola, who lives in New York City with his wife, daughter, and dog — and whose last driving ticket was for going zero miles per hour, blocking the box at the Holland Tunnel — will read from The Weekend Starts on Wednesday as part of twi-ny's free tenth anniversary celebration May 18 at Fontana's, which will also feature readings from Dean Haspiel, Nova Ren Suma, and Kyle Thomas Smith and live performances from James Mastro and Megan Reilly, Paula Carino and the Sliding Scale, and Evan Shinners.
twi-ny: You grew up on the South Shore of Long Island, not exactly a hotbed of auto racing. You've always been a huge sports fan, but tell the truth — what did you think of NASCAR when you first applied for the position, and how do you feel about it now?
Andrew Giangola: Your father took us to a stock car race at the old short track in Freeport, LI, when I was eleven and I loved it. (That track is now a strip mall.) I also watched [Richard] Petty and [David] Pearson and [Cale] Yarborough on Wide World of Sports when NASCAR snippets were shown between Ping-Pong and cliff diving. When I was exposed to the sport, I always liked it. But growing up on Long Island in the '70s, you didn't see a lot of NASCAR; the sport might as well have been racing on Mars. There was no ESPN or 24/7 sports coverage. I was by no means a fan.
When I got the job offer, after a quick web search it was pretty clear pretty fast that this was a big, powerful brand with a lot of company involvement. My real shock was at the first race; it happened to be Talladega, NASCAR's biggest and rowdiest track, in the heart of Alabama. I was wearing black slacks and a black shirt. A fan gripping a large beer yells down from the top of his converted school bus, "When are the aliens coming?" It was immediately clear NASCAR fans were familiar with the film Men in Black and that I'd need to learn the rules of the road, so to speak. Seven years later, I was sleeping with those fans — not in the biblical sense; it was research — and published The Weekend Starts on Wednesday about the most amazing fan stories.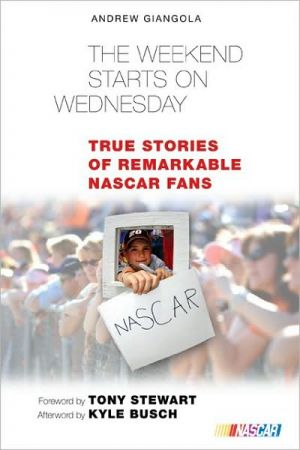 twi-ny: You've worked in communications for Pepsi and Simon & Schuster, spent nine race seasons at NASCAR, and now are brand new at IMG. What was the hardest part of the NASCAR job? You're also a wise-ass who was once championed as the savior of the PR business. How do you get away with your sarcastic sense of humor at such giant, serious companies?
Andrew Giangola: I'm not sure anyone ever championed me as a savior but that's awfully nice of you to say, and please let me introduce you to my new boss. At NASCAR, I really had a blast. Workplace humor is a dicey proposition. You have to pick and choose your spots and make sure you're overdelivering, because a comedian who puts up weak numbers is nothing but a liability. Of course, we dealt with some serious issues at NASCAR. It's such a decentralized, multifaceted industry. You have NASCAR the sanctioning body, teams, tracks, drivers, sponsors, licensees, media partners. In a sense, in my job in PR out of NASCAR's New York office, I had to serve them all. It kept a man busy. I literally wore out about five BlackBerries. (When I left, I offered to donate one to the NASCAR Hall of Fame; no one got back to me.) My daughter, Gaby, once said, "If work were crack, you'd sell me for a bag of it." The toughest challenge was keeping some semblance of family balance while attempting to make every man, woman, child, and dog in the US of A a stock car racing fan.
twi-ny: You're a die-hard Rangers fan, but you've claimed on your blog and in the book that NASCAR fans are the greatest in the world. Is that a diss to the Garden Faithful?
Andrew Giangola: When the Rangers play on Saturday night, do the fans start sleeping in front of the Garden on a Wednesday? That's what it's like in NASCAR. But I think Ranger fans and NASCAR fans have a lot in common in their tremendous passion for their sports. (Go to a NASCAR track like Pocono Raceway or Dover and you'll see a lot of cops and firemen in the infield who are big Ranger fans.) Remember, on any given Sunday in NASCAR there's one winner and forty-two losers. Ranger fans can relate to that continual, gut-wrenching, seemingly endless heartbreak. All that said, I still tell my wife, Viviane, that the day we were married was almost as good as that warm night in June of 1994 when the Rangers finally won the Stanley Cup.