It's almost impossible to overstate just how accomplished a writer Jennifer Egan is. Born in Chicago, raised in San Francisco, and based in Brooklyn, Egan has penned the short story collection Emerald City (1993) and the novels The Invisible Circus (1995), Look at Me (2001), The Keep (2006), and A Visit from the Goon Squad (2010) in addition to numerous articles and cover stories for the New York Times Magazine and other publications. Her fiction writing and journalism have garnered a host of honors, the latest being the prestigious National Book Critics Circle Award, which she won March 10 for A Visit from the Goon Squad, out in paperback today (Anchor, $14.95). Goon Squad is a swirling delight of a novel, jumping through time and space from chapter to chapter, each narrated by a different character and built around two engaging protagonists, kleptomaniac Sasha and record producer Bennie Salazar. Organized like an interconnected collection of short stories that can stand on their own, Goon Squad is a literary tour de force, a thrilling symphony that leaves readers breathless with anticipation at the conclusion of each chapter. Just before winning the NBCC Award, Egan talked to twi-ny about obsession, affection, obscurity, and chemistry.
twi-ny: Considering the daring experimental structure of Goon Squad and the tendency for works in progress to periodically threaten to fall completely to pieces, what helped you stay with this project through the years, especially during times when you may have been doubting it?
Jennifer Egan: The primary thing that held me steady as I worked on Goon Squad was an ongoing curiosity about—you might even say obsession with—the characters. They were in my head pretty much all the time. Also, since one of my goals was to make every chapter completely self-sufficient, I had a sort of built-in Plan B: If the whole construction didn't combust in the way I was hoping it would, at least I'd have a solid story collection to fall back on. That was my hope, and although my goal was definitely higher than that, it was consoling to think that I would end up with some kind of book either way.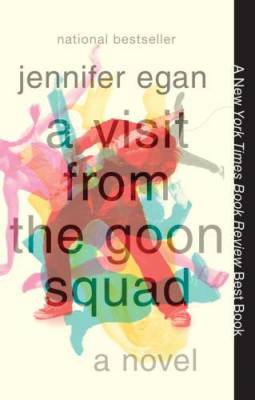 twi-ny: The novel is told from multiple POVs, with multiple narrators. Which one did you find most challenging to write from, and which was easiest? Which was your favorite, or did you have one?
Jennifer Egan: The character that came to me most easily was probably Bennie. I'm not sure why that is, but I had a special affection for him, and I also kind of identified with him—though I'm happy to say that we're not alike! The most difficult character was probably Lou, because he has a lot of bad qualities, and there was a danger of his seeming like a monster, rather than a human. Personally, I feel a lot of sympathy for Lou—I see him as a tragic figure—but not all readers share that view, so it may be that I didn't completely succeed at humanizing him.
twi-ny: You're nominated for a National Book Critics Circle Award in the Fiction category with Jonathan Franzen, David Grossman, Hans Keilson, and Paul Murray, none of whom were finalists for the National Book Award. (You were previously a National Book Award finalist for Look at Me.) How do you feel about book awards in general, and how they relate to your career specifically?
Jennifer Egan: Being a finalist for the National Book Award saved Look at Me from complete obscurity (it came out the week of 9/11, when most fiction disappeared without a trace), so I know how helpful those little medallions can be! I've also been a judge of the National Book Awards (2009), and I think that probably cured me of any sense that awards are personal. It's all chemistry; how a particular group of people's tastes interact, individually and together, with a gigantic body of work published in one year. Judges are judged themselves on their choices, and I think they generally agonize in their effort to do a responsible job. When I think about last year's National Book Awards, my first thought is not that I wasn't a finalist but that they did us all a huge service by honoring someone of enormous talent—Jaimy Gordon [Lord of Misrule]—who was not widely known. I envied them for having pulled that off.
Jennifer Egan will be at BookCourt on Monday, March 28, at 7:00 (free), for a discussion and signing; at Symphony Space on Wednesday, March 30, at 7:30 ($15-$25) for a Thalia Book Club event with Siri Hustvedt and Margot Livesey revisiting Tolstoy's Anna Karenina; at BAM on Thursday, March 31, at 6:30 ($50) for an Eat, Drink & Be Literary dinner moderated by Deborah Treisman; at the April 14 Westchester Libraries Author Luncheon at Abigail Kirsch's Tappan Hill at 12 noon ($75-$1,250) with David Shenk and Diane Mott Davidson; and at the New York Public Library also on April 14 at 7:00 ($25) for the Live from the NYPL program "Jennifer Egan in Conversation with Laura Miller."
follow twi-ny
 navigate
listings