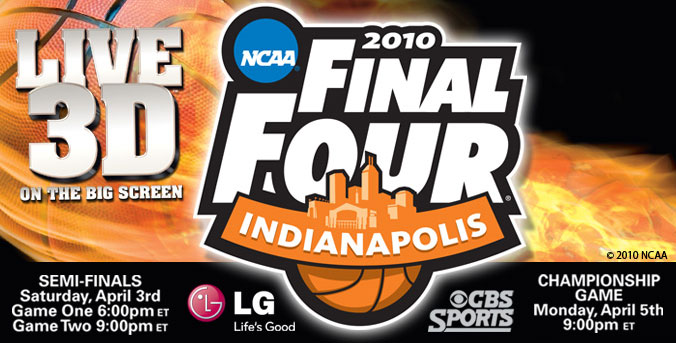 2010 NCAA CHAMPIONSHIP GAME
Pavilion Cinema, 188 Prospect Park West, 718-369-0838
Clearview's Chelsea, 260 West 23rd St., 212-777-3456
Monday, April 5, $25, 9:00
www.cinedigm.com
www.ncaa.com
Sure, 3D seems to be getting a little out of hand right now, with the 3D films CLASH OF THE TITANS, HOW TO TRAIN YOUR DRAGON, and ALICE IN WONDERLAND screening all over town right now, and even a Rangers-Islanders battle was broadcast in three dimensions last week. Rumors have it that President Obama's next press conference will be shown live in 3D on C-SPAN (not really). Now it is the NCAA's turn, as the 2010 championship game between the heavily favored Duke Blue Devils and the upstart Butler Bulldogs in Indianapolis tonight will be broadcast live in 3D in two dozen states, including here in New York, in movie theaters in Chelsea and Prospect Park. We're not really sure we need to see Coach K in 3D, but it sure would be sweet to see David conquer Goliath on the big, deep screen.