THE YES MEN FIX THE WORLD (Mike Bonanno, Andy Bichlbaum, and Kurt Engfehr, 2009)
Barnes & Noble
150 East 86th St. at Lexington Ave.
Thursday, April 1, free, 212-369-2180, 7:00
Available on DVD April 1, $26.95
www.theyesmenfixtheworld.com
www.barnesandnoble.com
Last year, the Yes Men, those masters of corporate impersonation, invaded New York City, handing out fake copies of the New York Post that focused on climate change. Well, they're back for more hijinks as promotion for the April 1 DVD release of THE YES MEN FIX THE WORLD. In 2003, Andy Bichlbaum and Mike Bonanno revealed their unique brand of anti-corporate performance art with THE YES MEN, a documentary in which they went to elaborate lengths to pose as spokespersons for major international companies, making ridiculous announcements that are often taken for fact at conventions and press conferences around the world. Bichlbaum and Bonanno are back fighting corporate crime in THE YES MEN FIX THE WORLD, employing what they refer to as identity correction to bring to light wrongs perpetrated on the public by Exxon, HUD, Halliburton, and Dow. They often start by creating fake Web sites that ultimately get them invited to speak at conferences and on business-related television shows, where they make statements and announce new products and programs that are both absurd and revelatory, especially when they apologize for companies that care more about profits than people. The Yes Men have elements of Sascha Baron Cohen's Borat character, only better dressed and with less bathroom humor, making important points about the state of the world. And proving that their work is not just one big joke, THE YES MEN FIX THE WORLD was the closing-night selection of the 2009 Human Rights Watch International Film Festival. The DVD is being released, appropriately enough, on April Fool's Day, with Andy and Mike appearing at the 86th St. Barnes & Noble, discussing their latest projects and signing copies of the disc, which includes more than eighty minutes of bonus footage and other extras.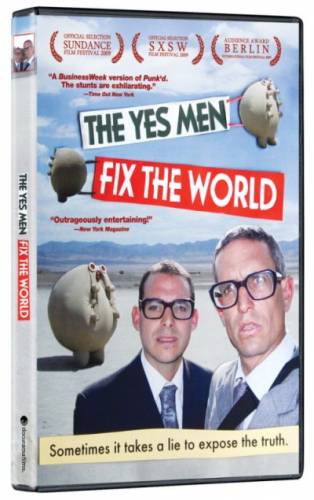 CONTEST: We have two copies of THE YES MEN FIX THE WORLD DVD to give away. Just send your name and daytime phone number to contest@twi-ny.com by Monday, April 5, at 12 noon to qualify; winners must be at least twenty-one years of age and will be chosen at random. And keep your eyes peeled for the latest prank by the Yes Men, who are promising a special announcement on April 2.