THE BIG KAHN: A Sequential Drama by Neil Kleid and Nicolas Cinquegrani (NMB Comics Lit, September 2009, $13.95)
www.nbmpub.com

When family patriarch and "religious giant" Rabbi David Kahn passes away, he is initially mourned by his community; "He counseled when we were lost, laughed when we smiled and comforted when we hurt," his son Avi, the assistant rabbi at the New Jersey synagogue David helped establish, says during the eulogy (while David's sister, Lea, is having sex in a temple closet). But then a stranger shows up, demanding that he see the late rabbi's body, declaring, "That box isn't going anywhere until I make sure that's Donnie inside." Roy Dobbs insists that the man in the coffin is a fraud – his brother Don, a grifter and con man whose life was one big lie. And when it turns out that he's telling the truth, the rabbi's family is forced to examine their own lives and suddenly question everything they were taught to believe in as the community that had embraced them for so long coldly and cruelly turns its back on them.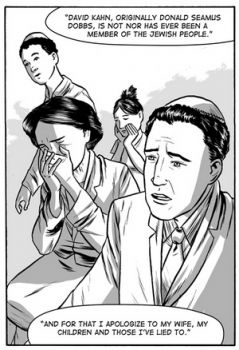 Kleid, who has also written the excellent true-crime graphic novel BROWNSVILLE, about New York City's Murder Inc., and the Xeric Award-winning NINETY CANDLES, tackles some lofty issues in THE BIG KAHN, including faith, the existence of God, sibling rivalry, homosexuality, and whether a person's deeds later in life can overcome the things he has done in his past. In his first full-length graphic novel, comic artist Nicolas Cinquegrani (CHASQUI, THE MYSTERIOUS SYMPTOMS) creates a simple yet moving environment for Kleid's emotional tale, his black-and-white drawings setting the appropriate mood for this intense family drama. THE BIG KAHN is no big con; it's the real deal.