Volume 4, Number 44-45 April 13-27, 2005

O. Louis Guglielmi, "Mental Geography," collection of Barney A. Ebsworth,
courtesy National Academy
Culinary Event of the Week
STEP UP TO THE PLATE: DINE IN BROOKLYN
Through April 20
718-802-3846
http://www.brooklyntourism.org/dine_in_brooklyn1.html
In celebration of the fiftieth anniversary of the Brooklyn Dodgers winning
the 1955 World Series, nearly two hundred Brooklyn restaurants will be
serving special three-course meals for $19.55, with "no attitude on the
side." Among the participants are Gargiulo's in Coney Island, the Liberty
Heights Tap Room in Red Hook, Randazzo's Clam Bar in Sheepshead Bay, MissWilliamsburg and Oznot's Dish in Williamsburg, Blue Ribbon Sushi and Y
Canteen in Park Slope, Gen in Prospect Heights, the River Cafe in Fulton
Landing. Mike's International in Flatbush, Rice in DUMBO, Waterfront Ale
House in Brooklyn Heights, Tatiana in Brighton Beach, Quercy in Cobble Hill,
Marco Polo in Carroll Gardens, the Soul Spot in Boerum Hill, and Goodfella's
in Bay Ridge.
PEN WORLD VOICES: THE NEW YORK FESTIVAL OF INTERNATIONAL LITERATURE ****(out of four)
The New School, Tishman Auditorium 66 West 12th St. between Fifth & Sixth
Aves. (NS)
Humanities and Social Sciences Library , South Court Auditorium (SC), Fifth
Ave. at 42nd St. (NYPL)
Dactyl Foundation, 64 Grand St. (DF)
National Museum of the American Indian, One Bowling Green (NMAI)
KGB Bar, 84 East Fourth St. (KGB)
La Maison Francaise, 16 Washington Mews at University Pl. (LMF)
The Town Hall, 123 West 43rd St. (TH)
Tishman Auditorium, Vanderbilt Hall, 40 Washington Sq. South (VH)
The Accompanied Library, 15 Gramercy Park South inside the National Arts
Club (AL)
W Hotels, 541 Lexington Ave. (W)
Hunter College, 695 Park Ave., entrance at 68th St. & Lexington Ave., eighth
floor (HC)
St. Mark's Church, 131 East Tenth St. at Second Ave. (SMC)
April 16-22
Admission: free unless otherwise noted
212-334-1660 ext119
http://www.nsu.newschool.edu/02a_specdiv.htm#0201
http://www.pen.org/page.php/prmID/623
Some of the world's greatest writers will be giving special readings,
lectures, and discussions at venues throughout Manhattan in this celebration
of the written world. Most of the events are free, although some are a mere
ten bucks. Below are only some of the highlights; among the participants are
Paul Auster, E.L. Doctorow, Salman Rushdie, Jonathan Ames, Michael Ondaatje, Luc Sante, Ha Jin, Wole Soyinka, Jonathan Franzen, Margaret Atwood, Breyten Breytenbach, Wayne Koestenbaum, and Peter Carey.
Saturday, April 16 Conversation: Chico Buarque and Paul Auster, NYPL,
$10, 2:00
Saturday, April 16 Confronting the Worst: Writing and Catastrophe,
with Svetlana Alexievich, François Bizot, Carolin Emcke, Philip Gourevitch,
Ryszard Kapuscinski, and Elena Poniatowska, moderated by Susie Linfield,
NYPL. $10, 4:00
Sunday, April 17 Conversation: Ha Jin and Eliot Weinberger, DF, 12
noon
Sunday, April 17 International Tour, with Jakob Arjouni, Natsuo
Kirino, Carlo Lucarelli, Luc Sante, and Paco Ignacio Taibo, moderated by
Robert Polito, NMAI, 7:00
Sunday, April 17 Reading: Banned Voices, with Margaret Atwood,
Antoine Audouard, Anouar Benmalek, Rick Moody, Wole Soyinka, Huang Xiang, and others, reading works by authors not able to attend, KGB, 9:00
Monday, April 18 Conversation: Andrei Makine and Adam Gopnik, LMF, 12
noon
Monday, April 18 The Power of the Pen: Does Writing Change Anything?
featuring readings by Margaret Atwood, Nuruddin Farah, Jonathan Franzen, Ha Jin, Ryszard Kapuscinski, Antonio Muñoz Molina, Salman Rushdie, Wole
Soyinka, and others, introduced by David Remnick, TH, $10, 7:00
Tuesday, April 19 Conversation: Nancy Huston and Siri Hustvedt, LMF,
2:00
Tuesday, April 19 Africa and the World: The Writer's Role, with
Elizabeth Alexander, Breyten Breytenbach, Tsitsi Dangarembga, Achmat Dangor, Nuruddin Farah, Zakes Mda, Pedro Rosa Mendes, Ngugi wa Thiong'o, and Uwe Timm, VH, 7:00
Tuesday, April 19 Late Night, Love and Hate: Writing in/from Hostile
Surroundings, hosted by Words Without Borders, with Kader Abdolah, Hanan
al-Shaykh, Anouar Benmalek, Khaled Mattawa, and Pedro Rosa Mendes,
introduced by E. L. Doctorow, AL, 9:00
Wednesday, April 20 Conversation: Hanan al-Shaykh and Salman Rushdie,
W, 12 noon
Wednesday, April 20 A "Believer" Nighttime Event in Celebration of
the PEN World Voices Festival, with Chimamanda Ngozi Adichie, Katja
Lange-Muller, Minae Mizumura, Rick Moody, Patrick Roth, and others, hosted by Jonathan Ames, with screening by Shirin Neshat and conversation moderated by Tom Bissell, NS, 8:00
Thursday, April 21 The Post-National Writer, with Lilian Faschinger,
Francisco Goldman, Jose Manuel Prieto, Yuri Rytkheu, Salman Rushdie, Yoko
Tawada, Eliot Weinberger, and Adam Zagajewski, NS, 2:00
Thursday, April 21 The New Voices from Europe, with Rafael Chirbes,
Victor Erofeyev, Cees Nooteboom, Patrik Ourednik, and Antonio Tabucchi, NS, 4:00
Thursday, April 21 Strange Times, My Dear, with Ahmad Karimi Hakkak,
Nahid Mozaffari, and Azar Nafisi, NS, 6:00
Thursday, April 21 The Way We Love Now, with Antoine Audouard, Orly
Castel-Bloom, Hanif Kureishi, Natsuo Kirino, and Peter Stamm, moderated by
Wayne Koestenbaum, $10, NS, 7:00
Thursday, April 21 UniVerse: World Literary Voices, with Bei Dao,
Breyten Breytenbach, Elena Poniatowska, Martin Espada,John Godfrey, Fadhil
al-Azzawi, Dunya Mikhail, Joan Margarit Consarnau, and Elif Shafak, SMC,
9:00
Friday, April 22 Conversation: Michael Ondaatje and Chimamanda Ngozi
Adichie, introduced by Peter Carey, HC, 4:00
Environmental Event
of the Week
EARTH WEEK 2005
Admission: free
212-922-0048
http://www.earthdayny.org/earthday_2005.html
Monday, April 18
through
Sunday, April 24 Protect Our Home: Giant Earth Images, illuminating
the Grand Central Terminal main concourse, with photographs, quotes,
conservation messages, and endangered-species facts from Andy Warhol, Keith Haring, Roy Lichtenstein, Robert Rauschenberg, Theodore Roosevelt, Martin Luther King Jr., Mahatma Gandhi, and others, 10:00 am ­ 8:00 pm
Friday, April 22
and
Saturday, April 23 EarthFair 2005, featuring exhibits and earthly
delights from the American Museum of Natural History, Annie's Homegrown,
Bike New York, the Bronx River Art Center, the Brooklyn Children's Museum, the Hudson River Sloop Clearwater, Dahn Yoga/Brain Respiration, EarthSave, Dr. Bronner's Magic Soaps, Eco-Investing with Bruce M. Kahn, Environmental Defense, the EPA, Farm Sanctuary, the Global Resource Action Center for the Environment, Fantastic Foods, the Green Guide Institute, the Institute for Rational Urban Mobility, the Mayor's Alliance for NYC's Animals, the National Park Service, the Nature Conservancy, the Natural Resource Defense Council, the National Outdoor Leadership School, the New York Society for Acoustic Ecology, NYC Vegetarians, the Rainforest Alliance, Sahaja Yoga, Save America's Forests, Segway, the Sierra Club, and many more, Vanderbilt Ave. outside Grand Central Terminal
Saturday, April 23 Earth Day Fair, Great Hill, West Side from 103rd
to 107th Sts., featuring DJ Moose, hula-hoop performances and lessons, arts
and crafts, live music, potato-sack races, lawn games, special tours, food,
and more, 212-260-2730, 11:00 am ­ 4:00 pm
Museum Mile Exhibit
of the Week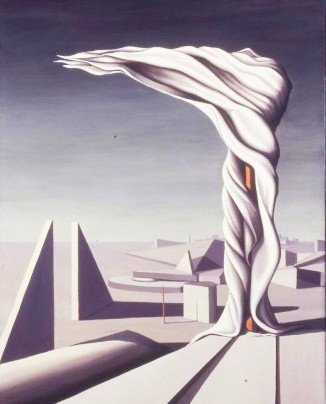 Kay Sage, "I Saw Three Cities," the Art Museum,
Princeton University, courtesy National Academy
SURREALISM USA ***1/2 (out of four)
National Academy Museum and School of Fine Arts
1083 Fifth Ave. between 89th & 90th Sts.
Through May 8
Closed Monday & Tuesday
Admission: $10
212-369-4880
http://www.nationalacademy.org
It's been nearly thirty years since American Surrealism has been examined in
such detail in an American museum, and the National Academy's new show
finally gives the movement its due. Approximately 120 works from New York,
California, Chicago, and that hotbed of Surreality, Texas (we're not
kidding), are on view, by both Americans and European ex-patriates, arranged
chronologically from 1931 to 1950 in five sections. "The 1930s: Surrealism
Comes to the U.S." kicks things off with social commentary in such
Dali-esque paintings as James Guy's "Venus on Sixth Avenue" and O. Louis
Guglielmi's "Persistent Sea No. 2"; don't miss the Mussolini-in-the-Box in
Peter Blume's "The Eternal City" or the woman with a nuclear bomb in her
back in Guglielmi's "Mental Geography." Walk through the narrow hallway with
Charles Howard drawings on one side and a silvery fun mirrored wall on the
other on the way to "California Post-Surrealism," which includes Lorner
Feitelson's magical, haunting "Genesis, First Version," with its theme of
birth repeated in circular and ovular forms; Helen Lundberg's eerie "Double
Portrait of the Artist in Time"; and Alexander Hogue's evocative "Erosion
No. 2 ­ Mother Earth Laid Bare." "Artists in Exile" features an all-star lineup: Salvador Dali's skyscraper-laden "The City" and heavenly "Honey Is Sweeter than Blood," Federico Castellon's "The Dark Figure," Adolph Gottlieb's "Picnic (Box and Figures)," Arshile Gorky and Isamu Noguchi's "Hitler Invades Poland," Max Ernst's "Stolen Mirror," Noguchi's bone-heavy "Monument to Heroes," and such eye-laden works as Jackson Pollock's "The Bird" and Andre Masson's "The Germ of the Cosmos." The next room is devoted to "The 1940s: Myth and Magic," focusing on the evolving technique of Surrealism, with a pair of Knud Merrild's manipulated paintings, Pollock's self-described "Composition with Pouring II," Kay Sage's flowing "I Saw Three Cities," Yves Tanguy's
entrancing "Naked Water," Enrico Donati's bizarre "Fist" sculpture with two
yellow eyes, and chessboard works by Leon Kelly, Charles Rain, and Dorothea Tanning. Finally, "Surrealism After the War, New York and Beyond" sums things up with Sage's faceless "Small Portrait"; John Wilde's disturbing
"Exhibiting the Weapon," in which a mustached weirdo with a huge, veined
brain points a gun at the big-brained woman in "A Near Miss," who is also
being shot at from the left corner; Gertrude Abercromie's mysterious
"Indecision"; and string twisting from above in a tribute to the Marcel
Duchamp-curated 1942 exhibition "First Papers of Surealism." To further the
atmosphere, avant-garde music is piped in as well, with pieces by Messaen,
Cage, Varese, and Babbit, among others.

SELECTION OF NINETEENTH-CENTURY AMERICAN ART FROM THE COLLECTION *** (out of four)
National Academy Museum and School of Fine Arts
Through May 8
http://www.nationalacademy.org
It's always a treat to have some of the National Academy's best works from
its permanent collection on display. The current batch includes landscapes
by George Inness, Asher Brown Durand, and Thomas Doughty; Albert Pinkham Ryder's beautifully stormlike "Marine"; Red Grooms's groovy "Manhattan Lullaby"; and Robert De Niro Sr.'s abstract "Blue Barn, New Hampshire." Also along for the ride are John Quincy Adams Ward's bronze sculpture "The Freedman," John Singer Sargent's portrait of Edward Darley Boit, Eugene Higgins's "Driven Out," George Wesley Bellows's non-pugilistic "Three Rollers," Philip Pearlstein's bony "Nude Torso," Larry Rivers's "Headless Fashion" strutting off the canvas, William Merritt Chase's very red "At Her Ease," Reuben Tam's mellow "Monhegan Night," James Augustus Suydam's glowing "Twilight," and Charles Wilbert White's powerful "Mother Courage II."

PUBLIC PROGRAMS
National Academy Museum and School of Fine Arts
1083 Fifth Ave. between 89th & 90th Sts.
212-369-4880/212-996-1908
http://www.nationalacademy.org
Saturday, April 16 Family Fun Days: Painting Your Dreams, $6, 1:00 ­
3:00
Thursday, April 21 Lunchtime Lectures: The Artist's Space, with
Laurent Pariente, Huntington Room, free, 12 noon
Wednesday, May 4 Lunchtime Lectures: An Artist's Progress, with
Daniel Atyim, Huntington Room, free, 12 noon

In the Neighborhood
BACON CHEESEBURGER PLATTER ***1/2 (out of four)
Jackson Hole
91st St. & Madison Ave.
Platter: $10.05
212-427-2820
http://www.jacksonholeburgers.com/location.asp?locid=10
On our never-ending quest for the best burger in the city, we recently
returned to this Upper East Side burgery despite our dissatisfaction with
the mediocre Murray Hill outlet of this mini-chain. And we're sure glad we
did. We ordered our bacon cheeseburger medium well, and when it arrived so
quickly, we doubted that it had been correctly cooked. But it was right on
target ­ the grillmeisters keep a bunch of fresh burgers cooking at any one
time, under individual silvery domes. Jackson Hole claims to be the "Home of
the 7 oz. Burger," but that's after cooking; they start out around 10 oz.,
and the ridiculously thick and piping hot results are more than a mouthful.
Still, for the full experience, you should try to avoid using a knife and a
fork. (Make sure you have lots of extra napkins.) The fries are thin and
crispy, the bacon tasty but limp, and the view out on ritzy Madison Ave. a
bonus treat.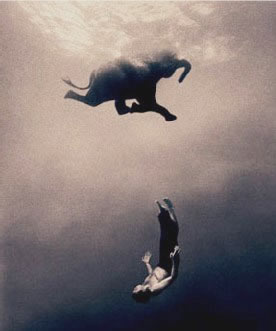 Gregory Colbert
GREGORY COLBERT: ASHES AND SNOW
***1/2 (out of four)
The Nomadic Museum
Hudson River Park Pier 54 at West 13th St.
Closed Monday
Through June 6
Admission: $12
1-800-905-9552
http://www.ashesandsnow.org
Principal architect Shigeru Ban has taken 148 steel cargo containers, mostly
red, white, and blue, and constructed a colorful, temporary, cathedral-like
art space overlooking the very brown Hudson River. The long, narrow,
welcoming postindustrial structure -- 56 feet high, 67 feet wide, and 672
feet long ­ is home to marvelous photographs by Gregory Colbert that line
either side of a 12-foot walkway surrounded by river stones. Colbert has
spent 13 years traveling the globe, taking pictures of animals and humans
interacting in fascinating, unusual, and remarkable ways, in the deserts,
under the water, and at holy sites in such places as Sri Lanka, Burma,
Kenya, Ethiopia, Namibia, Tonga, the Azores, Egypt, India, and Antarctica.
Each unframed photograph is printed on handmade Japanese paper and hung from the ceiling, dangling at eye level. A kneeling boy reads to a kneeling
elephant who listens closely. A monk and an elephant walk in tandem on
water. Colbert swims with a sperm whale, creating an underwater ballet that
looks like it has been carefully choreographed. A woman sleeps nestled in a
pair of elephants' trunks. A boy and a leopard perch together atop a rock.
An eagle soars over a woman's head. And in our favorite, a child monk sits
in the shadows, eyes closed, listening to a shell that is bathed in sunlight
and not near his ear, yet we believe he can still hear the sound of the
waves ­ and if you listen close enough, so will you. The chantlike, peaceful
music you are hearing is coming from a one-hour film that is shown
continuously at the far end of the gallery; narrated by Laurence Fishburne.
It is the live-action equivalent of the photographs, as revealing as it is
incredible. Like the still shots themselves, the film has not been digitally
manipulated or altered in any way. We strongly suggest you look at all the
photos on both sides before taking in the film; we saved the left side of
the gallery for after the movie, and the photographs are anticlimactic seen
in that order. Or else, of course, the pictures on the right side of the
container museum, which we saw prior to the film, are that much stronger on
their own.

In the Neighborhood
CHELSEA MARKET **** (out of four)
75 Ninth Ave. between 15th & 16th Sts.
Admission: free
http://www.chelseamarket.com
The old National Biscuit Company, home of the Oreo cookie, is now home to
this cool market that combines great food with fun architecture, interesting
art displays, and free wi-fi access. As you walk the path past all kinds of
shops, stop by the funky NY1 and Major League Baseball elevator banks; pick
up a two-dollar fritatta di pasta, a one-dollar panzeroni ripieni, and a
tartufo dolce di alba at Buon Italia; take a seat on one of Mark Mennin's
stone sculptures, especially by the fountain (where "Ausable" re-creates a
man in stone, with feet sticking out at the bottom); try not to pet David
Corcoran's "Vac Dog" climbing the wall; don't touch Michael McConnell's
pressed aluminum figures; check out David Horowitz's sculptured plaster
panels by the ATM; have a dark-chocolate brownie at Fat Witch; see a taping
of EMERIL LIVE!; and bring home an intense Dolfin Chocolat Noir aux Amandes Grillees bar and a complex Nirvana Divine Dark Gourmet Bar from Chelsea Market Baskets. Among the other stores are Sarabeth's, Amy's Bread, the Lobster Place, Bowery Kitchen, Manhattan Fruit Exchange, Frank's Butcher Shop (with a meat-cutting saw right in the window), Chelsea Wholesale Flower Market, the Wine Vault (which has free tastings every Friday from 1:00 to 5:00), and more.
Non-Tribeca Film Festival
of the Week
HAROLD LLOYD **** (out of four)
Film Forum
209 West Houston St. between Sixth & Seventh Aves.
April 20 ­ May 17
Tickets: $10
212-727-8110
http://www.filmforum.com/films/lloyd.html#420
http://www.haroldlloyd.com
The silent-movie triumvirate consists of Charlie Chaplin, Buster Keaton, and
Harold Lloyd, and Film Forum is presenting this fabulous opportunity to see
the creative, influential, and very funny work of Lloyd, by far the least
well known and respected of the trio. Part of that reason is because he made
so many films, with lots of mediocre movies in the bunch. But the cream of
the crop rivals the best of Chaplin, Keaton, or any of the other silent-era
superstars. For a special treat, many of the films will have one screening
that features live piano accompaniment. Strangely, most of these films are
nearly impossible to find on video and are not yet on DVD, although some of
them pop up on Turner Classic Movies from time to time, so this is a rare
chance to see them at all ­ and on the big screen, no less.
Wednesday, April 20
through
Saturday, April 23 SAFETY LAST (Fred C. Newmeyer & Sam Taylor, 1923),
7:20 screening with live piano accompaniment by Steve Sterner
Sunday, April 24
and
Monday, April 25 THE KID BROTHER (Ted Wilde, 1927), 7:20 screening
with live piano accompaniment by Steve Sterner

THE KID BROTHER (Ted Wilde, 1927) ***3/4 (out of four)
http://www.sendit.com/video/item/7000000005782
We love this little gem of a film. Harold Lloyd stars as nerdy Harold
Hickory, who is responsible for taking care of his two tough brothers (Leo
Willis and Olin Francis) and his even tougher father, the sheriff (Walter
James), as he does the cooking and the cleaning in highly inventive ways
while the macho Hickory men run Hickoryville. When a traveling medicine show comes to town, wimpy Harold falls for Mary (Jobyna Ralston), but his
brothers think they have a better shot at her. The scene in which Harold
poses as Mary hiding behind a curtain as his brothers woo him/her is a riot.

Wednesday, April 27
and
Thursday, April 28 WHY WORRY (Fred C. Newmeyer & Sam Taylor, 1923),
7:30 screening with live piano accompaniment by Steve Sterner, and MOVIE
CRAZY (Clyde Bruckman, 1932)
Friday, April 29
and
Saturday, April 30 SPEEDY (Ted Wilde, 1928) and HAUNTED SPOOKS
(Alfred J. Goulding & Hal Roach, 1920), 7:30 screening with live piano
accompaniment by Steve Sterner

SPEEDY (Ted Wilde, 1928) ***3/4 (out of four)
http://www.sendit.com/video/item/7000000031597
http://haroldlloyd.com
Harold Lloyd's final silent film played last year at Roger Ebert's
Overlooked Festival as well as at the 2003 HBO US Comedy & Arts Festival in Aspen, and it's easy to see why. Much like the end of the silent film era
itself, the last horse-drawn trolley is doomed, with big business playing
dirty to get rid of it and Pop Dillon, a classic old-timer. Harold "Speedy"
Swift, a dreamer who wanders from menial job to menial job (he makes a great
soda-jerk with a unique way of announcing the Yankees score), cares only
about the joy and wonder life brings. He's in love with Pop's granddaughter,
Jane, and vows to save the day. Along the way, he gets to meet Babe Ruth.
Ted Wilde was nominated for an Oscar for Best Director, Comedy, in this
thrilling nonstop ride through beautiful Coney Island and the pre-depression
streets of New York City.

Sunday, May 1
and
Monday, May 2 GIRL SHY (Fred C. Newmeyer & Sam Taylor, 1924) and
NEVER WEAKEN (Fred C. Newmeyer, 1921), 7:25 screening with live piano accompaniment by Steve Sterner
Tuesday, May 3 HOT WATER (1924), 7:00 screening with live piano
accompaniment by Steve Sterner, and PROFESSOR BEWARE (Elliott Nugent, 1938)
Wednesday, May 4
and
Thursday, May 5 GRANDMA'S BOY (Fred C. Newmeyer, 1922), 7:50
screening with live piano accompaniment by Steve Sterner, AN EASTERN
WESTERNER (Hal Roach, 1920), and FEET FIRST (Clyde Bruckman, 1930)
Friday, May 6
and
Saturday, May 7 THE FRESHMAN (Fred C. Newmeyer & Sam Taylor, 1925),
7:30 screening with live piano accompaniment by Steve Sterner
Sunday, May 8
and
Monday, May 9 FOR HEAVEN'S SAKE (Sam Taylor, 1936), 8: 05 screening
with live piano accompaniment by Steve Sterner, and THE MILKY WAY (Leo McCarey, 1936)
Tuesday, May 10
and
Wednesday, May 11 DOCTOR JACK (Fred C. Newmeyer, 1922), 7:50
screening with live piano accompaniment by Steve Sterner, and THE CAT'S PAW (Sam Taylor, 1934)
Thursday, May 12 THE SIN OF HAROLD DIDDLEBOCK (Preston Sturges, 1947)
and A SAILOR-MADE MAN (Fred C. Newmeyer, 1921), 8:25 screening with live piano accompaniment by Steve Sterner
Friday, May 13
through
Tuesday, May 17 WELCOME DANGER (Clyde Bruckman, 1929), 7:45 screening with live piano accompaniment by Steve Sterner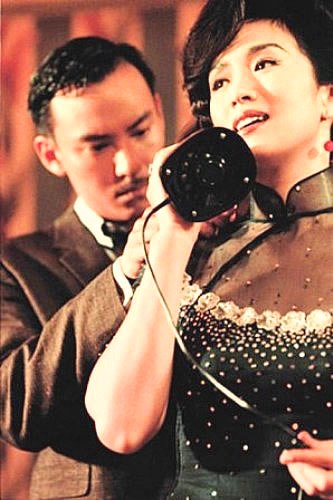 Chang Chen and Gong Li in "The Hand"
EROS (Wong Kar Wai, Steven Soderbergh, and Michelangelo Antonioni, 2005) **(out of four)
Now playing
Landmark Sunshine Cinema
143 E. Houston St. between First & Second Aves.
Tickets: $10.50
212-330-8182
http://www.landmarktheatres.com/Market/NewYork/NewYork_frameset.htm
http://wip.warnerbros.com/eros
What a major disappointment. Wong Kar Wai (IN THE MOOD FOR LOVE, CHUNGKING EXPRESS, HAPPY TOGETHER) and Steven Soderbergh (TRAFFIC, sex, lies & videotape, THE LIMEY) pay tribute to Michelangelo Antonioni (BLOW-UP, L'AVVENTURA, LA NOTTE) in this three-segment film about Eros and love. In Wong's evocative "The Hand," Chang Chen stars as a young tailor who becomes obsessed with a gorgeous, high-priced courtesan (the effervescent Gong Li), for whom he creates special dresses. The film is wonderfully shot by expert lensman Christopher Doyle, and the story is told with a beautiful subtlety. Soderbergh's comedic "Equilibrium," about a peeping Tom psychiatrist (Alan Arkin) and his fast-talking ad-man patient who is obsessed with alarm clocks (Robert Downey Jr.), lurks ever so close to being insanely funny but falls short time and again. But it is dirty old man Antonioni's contribution, the lurid, insipid, and beyond preposterous "The Dangerous Thread of Things," that will have you mad at the screen. You'll be more interested in how much Christopher Buchholz looks like his father, Horst (THE MAGNIFICENT SEVEN), than watching these dreary, wealthy stereotypes prance about naked on the beach.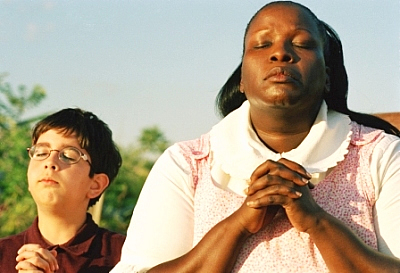 PALINDROMES (Todd Solondz, 2004) *1/2 (out of four)
Angelika Film Center
18 West Houston St. at Mercer St.
Opens Wednesday, April 13
Tickets: $10.50
212-995-2000
http://www.city-cinemas.com/angelika.html
http://www.wellspring.com/movies/movie.html?movie_id=62
We loved WELCOME TO THE DOLLHOUSE and HAPPINESS, and we were fans of the controversial STORYTELLING as well, but writer-director Todd Solondz goes way too far with PALINDROMES, which is painful to watch. Opening with the funeral of Dawn Wiener (the lead character in DOLLHOUSE), the film tells the tale of a thirteen-year-old girl who is desperate to have a baby so she can share the love inside her. Her parents (Ellen Barkin, who could use some hand cream, and Richard Masur, from ONE DAY AT A TIME) adore her, but they can't prevent her from pursuing her needs. As young Aviva ventures out into the world, she is played by very different actors in every scene (including Emani Sledge, Valerie Shusterov, Hannah Freiman, Rachel Corr, Will Denton, Sharon Wilkins, Shayna Levine, and Jennifer Jason Leigh), a tactic that ranges from being cute and clever to manipulative and annoying. Aviva is so dispassionate about everything in her life except wanting a baby, you'll want to shake her out of her malaise ­ and yell at her to speak faster.Stephen Adly Guirgis costars as a truck driver with a thing for young girls, and Debra Monk plays a Bible-lovin' woman who runs a halfway house for children with physical and mental disabilities that is disturbing to watch ­ and not in a good way. We'd love to think of a palindrome (words or sentences that are the same backward and forward) to further knock this
film, but it's not worth our time, or yours.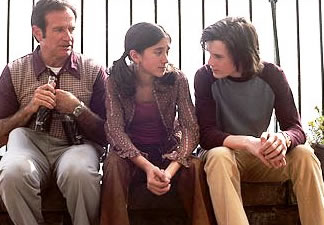 HOUSE OF D (David Duchovny, 2004) ***1/3 (out of four)
Opens Friday, April 15
http://www.houseofdthemovie.com
David Duchovny's feature-film debut as a writer-director, a hit at last
year's Tribeca Film Festival, is a charming and poignant examination of a
man looking back at the pivotal moment in his childhood that reshaped his
entire life. Anton Yelchin gives a memorable performance as Tommy Warshaw, a young boy, about to turn thirteen who lives with his mother (Duchovny's
real-life wife, Tea Leoni) in Greenwich Village. Tommy's father has recently
died, sending his mom into an emotional tailspin. Tommy finds solace in his
best friend, Pappass (Robin Williams), a kindhearted, mentally challenged
assistant janitor at his school, and he seeks motherly advice from a woman
(whom he never actually sees but only talks to from the street) incarcerated
at the Women's House of Detention (Erykah Badu). He also is experiencing the
pangs of first love with rich kid Melissa (Williams's real-life daughter,
Zelda Williams). But everything threatens to fall apart when Pappass acts
out and loses control. Most of the film is set in the 1970s, and Duchovny
gets it just right, including such crucial elements as Nerf basketball, the
Doobie Brothers, and Click-Clacks. The House of D itself was located at
Tenth St. in the Village, where the garden next to the Jefferson Market
Library now blooms every spring.

JEFFERSON MARKET GARDEN **** (out of four)
70A Greenwich Ave. between Sixth Ave. & West 10th St.
Closed Monday
http://www.nycgovparks.org/sub_your_park/historical_signs/hs_historical_sign
.php?id=7729
After seeing David Duchovny's HOUSE OF D, take a break and visit the real
thing. Formerly a thriving marketplace (dating from 1833) and the Women's
House of Detention (opened in 1931) next to the courthouse, this area is now
a beautiful garden designed by Pamela Berdan. Follow the path around the
garden (and alongside the new wrought-iron gates) and you'll come upon
Yoshino Cherry trees, American Yellowwoods, benches to rest your weary feet, a Winged Euonymus, Rose of Sharon, colorful Hydrangeas and Azaleas, a Red Select Looseleaf Maple, Thornless Honeylocusts, a lovely little turtle pond
(with a frog spitting into it), a Hinoki False Cypress, Star and Saucer
Magnolias, and other beautiful plants, flowers, and trees. Be sure to get a
plan from the ranger at the entrance so you can identify what's what, and
also bring a few bucks, because the garden needs money to survive. In fact,
although it's open every afternoon except Monday, the hours depend on
whether they have volunteers around to help out.

JEFFERSON MARKET REGIONAL BRANCH
**** (out of four)
New York Public Library
425 Sixth Ave. at 10th St.
212-243-4334
http://www.nypl.org/branch/local/man/jmr.cfm
http://www.mcny.org/Exhibitions/abbott/a020.htm
http://www.bc.edu/bc_org/avp/cas/fnart/fa267/19th/j_mkt1.jpg
This splendid Victorian Gothic structure was built in 1877, designed by
Frederick Clarke Withers and Calbert Vaux, as the Jefferson Market
Courthouse; in fact, you can still see the words "Third Judicial District
Courthouse" over the entrance. The facade of this building is magnificent; a
king and his subjects line the tympanum, gatorlike creatures climb down the
walls, various birds come alive at the base of the arch, Indians appear in
roundels, bizarre creatures jut out at the 10th Ave. corner, and a fabulous
four-faced clock tower tops everything off. Inside are stained-glass
windows, a spiral staircase, and tiny windmills above the old doors -- as
well as a display case detailing the fascinating history of the building. If
you listen hard enough, you can still hear the ghost-sounds of the old Sixth
Ave. El rumbling past.

ONE MISSED CALL (CHAKUSHIN ARI) (Takashi Miike, 2003) *** (out of four)
Cinema Village
22 East 12th St. between University Pl. & Fifth Ave.
Opens Friday, April 22
Tickets: $9
212-924-3363
http://cinemavillage.com
http://www.llamadaperdida.net
One of our favorite directors, the great Takashi Miike (AUDITION, ICHI THE
KILLER, THE HAPPINESS OF THE KATAKURIS, GOZU), turns to the hot and heavy horror genre that has been dominating Japan with ONE MISSED CALL, a frightfest that will make you think twice about your cell phone. Eschewinghis usual blood and gore for more of a psychological thriller, Miike weaves a slow-paced tale about a group of Japanese girls who receive calls on their cell phones with an ominous ring tone ­ and a message from themselves in the near future, screaming as they die. And there's nothing they can do to stop their horrible impending deaths. The film has lots of gaping plot holes, and Miike borrows too liberally from Hideo Nakata's RINGU and Takashi Shimizu's JU-ON: THE GRUDGE, but this is still one scary movie you shouldn't miss ­ especially if you're unfamiliar with the Japanese horror genre. Not that this necessarily means anything, but Hollywood has already snapped up the rights for an English-language remake, which worked well with THE RING but not so well with THE RING 2 and THE GRUDGE.
MODIFY (Greg Jacobson & Jason Gary, 2005)
*** (out of four)
Tribeca Film Festival
102 North End Ave. between Vesey & West Sts.
Friday, April 22, Regal Battery Park 4, 11:00
Sunday, April 24, Regal Battery Park 9. 6:45
Wednesday, April 29, Regal Battery Park 5, 10:00
Friday, April 29, Regal Battery Park 5, 10:00
Tickets: $10
http://www.tribecafilmfestival.org
http://www.modifythemovie.com
Simply put, MODIFY is the most disgusting movie we have ever seen. To a pulsating electronica beat, Gary Jacobson and Jason Gary delve into the rather unsettling world of body modification, from tattoos to piercings, permanent makeup to body suspension, under-the-skin jewelry to 3-D scarring, liposuction to face lifts, bodybuilding to elective amputation, drag queens to sex change operations. Along the way there is a whole lot of pinching cutting, slicing, bleeding, lasering, poking, prodding, implanting, and more, shown in living color and with great detail. The film focuses on body artists who believe they are just decorating a canvas, conceptual artists who suspend their bodies in the air with metal hooks, men and women who say altering their body is both their right and a spiritual quest, and, well, you get the idea. Among those sharing their views ­ and bodies ­ are Lizardman, Stalking Cat, Trigger, Zulu, Bear, Screwfish, and early pioneers Jim Ward and Fakir Musafar. You wonıt believe the lengths some people go to achieve their goals, including genital piercing, horn implants, metal everywhere and anywhere you can imagine, and more. The movie is actually very well made and edited, but even we looked away from the screen a lot, and thatıs something we never do. Youıve been warned.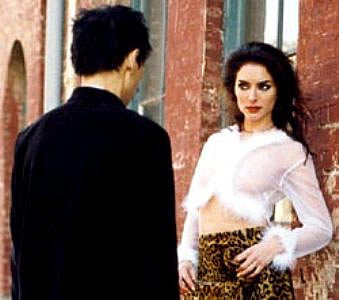 I AM A SEX ADDICT (Caveh Zahedi, 2005) *** (out of four)
Tribeca Film Festival
Regal Cinemas Battery Park Stadium 11 (RBPT)
102 North End Ave. between Vesey & West Sts.
Friday, April 22, 7:00
Tuesday, April 26, 3:30
Thursday, April 28, 5:30
Tickets: $10
http://www.cavehzahedi.com
http://www.tribecafilmfestival.org
Indie filmmaker Caveh Zahedi (A LITTLE STIFF, I DON'T HATE LAS VEGAS
ANYMORE, IN THE BATHTUB OF THE WORLD) chronicles his sexual addiction in this oddball low-budget docudrama that is as fun as it is embarrassing. Zahedi plays himself as he re-creates pivotal scenes from his life, focusing on his relationships with Caroline (Rebecca Lord), Christa (Emily Morse), and Devin (Amanda Henderson) ­ each of which was troubled in different ways by his compulsion to visit street prostitutes. Zahedi regularly turns to the camera and addresses the audience (breaking time and space), shows actual footage of the real women, and gets way too personal by reenacting sex
scenes that are humorous at first but eventually get to be too much
information. Silly animation by Bob Sabiston and songs by Jonathan Richman
keep things playful, there's plenty of female nudity, and the acting is so
convincing you'll wonder at times which parts are the real thing.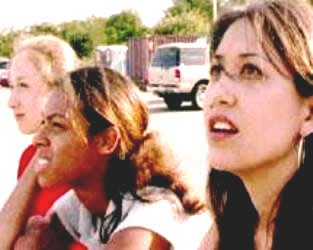 ROCKAWAY (Mark Street, 2005) *** (out of four)
Tribeca Film Festival
Friday, April 22, Regal Battery Park 8, 7:15
Sunday, April 24, Regal Battery Park 1, 6:15
Friday, April 29, Tribeca Cinemas Theater 1, 4:00
http://www.tribecafilmfestival.org
Mark Street, assistant professor of film in the Visual Art Department at
Fordham University-Lincoln Center, directed, produced, and edited this
charming little story of three teenage girls from Rockaway getting ready to
graduate high school. Vanessa Yuille is outstanding as Merida, a fun-loving,
free-spirited young woman who lives for the moment, not yet ready to face
that she might never leave her suburban community. Laura Johnson is Kelly, a
more reserved pianist who is secretly sleeping with a much older bartender.
And Jennifer Brown is Juanita, who has a domineering mother and is still
trying to discover her own sexuality. The very close trio drink on the
beach, reenact a scene from Chekhov's THREE SISTERS, share their innermost thoughts, and sometimes speak to the camera as they look forward to a last-gasp limo ride that will take them through Times Square. Street
alternates from a documentary video style to grainy poetic shots of the
Rockaway landscape, from quick flashbacks to longer, improvised scenes,
avoiding genre cliches and ending up with a sweet, personal film.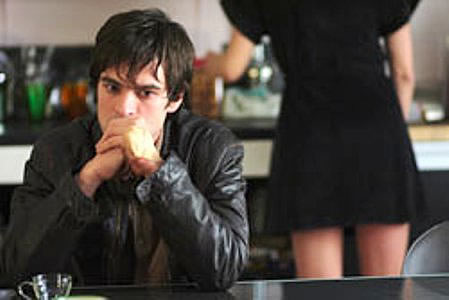 THE BEAT THAT MY HEART SKIPPED (Jacques Audiard, 2005) *** (out of four)
Tribeca Film Festival
Wednesday, April 27, Regal Battery Park 5, 7:00
Thursday, April 28, Regal Battery Park 3, 2:30
Saturday, April 30, Regal Battery Park 8, 1:15
http://www.tribecafilmfestival.org
In a relatively unique change of pace, the French have remade a favorite
American underground film. Director Jacques Audiard and screenwriter Tonino
Benacquista follow-up their international hit READ MY LIPS (2001) with this
creative, moody remake of James Toback's FINGERS (1978), which starred
Harvey Keitel as a New York City kid forced to choose between the piano and the mob. Audiard moves the film to the mean streets of Paris, where Tom
(Romain Duris) attempts to regain his childhood musical virtuosity, which he
gave up after his mother's tragic death. As he begins to train with a
Vietnamese piano student-teacher who does not speak French (Linh-Dan Pham), his crooked partners continue to reel him in to their low-rent, dangerous
real estate scams. Ever the antihero, Tom also has a poignant love-hate
relationship with his father, played by Niels Arestrup in a marvelous yellow
get-up. As Tom's worlds collide, he is constantly aware of protecting his
fingers, which he needs to perform Bach's Toccata in E Minor at an important
audition. The film, which takes a while to really develop, is shot in long
takes with a handheld camera, keeping Tom boxed into his claustrophobic
situation. Songs by Bloc Party and the Kills keep things on edge, mixing
well with Bach and Alexandre Desplat's evocative award-winning score.

THE RECEPTION (John G. Young, 2005) *** (out of four)
Tribeca Film Festival
Saturday, April 23, Regal Battery Park 11, 8:45
Friday, April 29, Regal Battery Park 1, 9:15
http://www.tribecafilmfestival.org
It's been ten years since SUNY Purchase graduate John G. Young's debut film,
PARALLEL SONS (1995), was nominated for the Grand Jury Prize at Sundance, and it's good to have him back. THE RECEPTION is the epitome of the indie film, shot in eight days for a mere five grand. The entire film takes place in upstate New York during a snowy winter, where cynical, man-hating
Jeanette (Pamela Holden Stewart), who drinks too much, lives with gay
painter Martin (Wayne Lamont Sims). When Jeanette's estranged daughter,
Sierra (Margaret Burkwit), unexpectedly shows up with her new husband,
Andrew (Darien Sills-Evan), it is not exactly a joyful family reunion.
Secrets are revealed, confidences betrayed, and surprising truths strike out
as Young infuses the film with classic French touches ­ lots of wine,
dancing to Eurotrash music, and plenty of philosophical waxings on life,
love, and race.
twi-ny top two dozen (or so) weekly reminders
& special events
MEET THE WRITERS
Barnes & Noble
33 East 17th St. at Union Square (US)
212-253-0810
600 Fifth Ave. at 48th St., Rockefeller Center (RC)
675 Sixth Ave. at 22nd St., Chelsea (CH)
160 East 54th St. at Third Ave., Citicorp (CC)
105 Fifth Ave. at 18th St. (18)
4 Astor Pl. at Broadway (AP)
1972 Broadway at West 66th St., Lincoln Triangle (LT)
396 Sixth Ave. at Eighth St., Greenwich Village (GV)
2289 Broadway at 82nd St. (BW)
240 East 86th St. at Second Ave. (86)
106 Court St., Brooklyn (CS)
267 Seventh Ave., Park Slope (PS)
Admission: free
http://www.barnesandnoble.com/frames/storeLocator/storeLocator_zip.asp?ZIP=1
0016&userid=1D6CIO3Q8L&linkto=shop
Wednesday, April 13 Lewis Black, NOTHING'S SACRED, CH, 7:30
Thursday, April 14 Buzz Bissinger and Tony La Russa., THREE NIGHTS IN
AUGUST, RC, 1:00
Friday, April 15 Jennifer Kogler, RUBY TUESDAY, GV, 7:30
Monday, April 18 Peter Poplaski & Aline Crumb, THE R. CRUMB HANDBOOK,
CH, 7:00
Tuesday, April 19 Nick Mason, INSIDE OUT, US, 7:00
Wednesday, April 20 Kazuo Ishiguro, NEVER LET ME GO, US, 7:00
Thursday, April 21 Margaret Atwood, WRITING WITH INTENT, LT, 7:00
Tuesday, April 26 Jonathan Ames, SEXUAL METAMORPHOSIS, AP, 7:00
Wednesday, April 27 Phil Lesh, SEARCHING FOR THE SOUND: MY LIFE IN THE GRATEFUL DEAD, RC, 1:00
---
CONTEMPORARY VOICES: WORKS FROM THE UBS ART COLLECTION
Museum of Modern Art Titus 2 Theater
11 West 53rd St. between Fifth & Sixth Aves.
212-708-9781
http://moma.org/events/adult
Wednesday, April 13 Linda Yablonsky interviews Terry Winters, $10,
6:00
Wednesday, April 20 Eleanor Heartney interviews Vija Celmins, $10,
6:00
---
A NIGHT AT THE MOVIES
Gallery Korea
Korean Cultural Service
460 Park Ave. at 57th St., sixth floor
Alternate Thursday nights at 6:30
Admission: free
212-759-9550
http://www.koreanculture.org
Thursday, April 14 LOVELY RIVALS (Gyu-seong Jang, 2004)
---
HISTORY COMES ALIVE
CUNY Graduate Center
365 Fifth Ave. at 34th St.
212-817-8215
http://www.gc.cuny.edu/calendar_of_events/index.htm
Thursday, April 14 Greetings from Coney Island: Its History,
Characters, and Tales, with Dick Zigun, $15, 7:00
---
FLOWER ARRANGEMENT
Tenri Cultural Institute
43A West 13th St. between Fifth & Sixth Aves.
Admission: free
347-624-3808
http://www.tenri.org
http://www.ohararyu.or.jp
Thursday, April 14
through
Saturday, April 16 Exhibition by the Ohara School of Ikebana
---
SUNSHINE AT MIDNIGHT
Landmark Sunshine Cinema
143 E. Houston St. between First & Second Aves.
Friday and Saturday nights at midnight
212-330-8182
http://www.landmarktheatres.com/Market/NewYork/NewYork_frameset.htm
Friday, April 15
and
Saturday, April 16 WELCOME TO THE DOLLHOUSE (Todd Solondz, 1995)
Friday, April 22
and
Saturday, April 23 AFTER HOURS (Martin Scorsese, 1985)
---
CONTEMPORARY KOREAN CINEMA
City Cinematheque
Time-Warner Cable channel 75
Saturdays and Sundays at 9:00 pm
Repeated the following Friday at midnight
http://www.cunytv.cuny.edu
Friday, April 15 WHY HAS BODHI-DHARMA LEFT FOR THE EAST? (Bae
Yong-kyun, 1989)
Saturday, April 16
Sunday, April 17
and
Friday, April 22 TELL ME SOMETHING (Yoon-Hyun Chang, 1999), 9:00
Saturday, April 23
and
Sunday, April 24 TAKE CARE OF MY CAT (Jae-eun Jeong, 2001)
---
COOL JAPAN: OTAKU STRIKES!
Japan Society
333 E. 47th St. at First Ave.
212-715-1288
http://www.japansociety.org
Friday, April 15 WiLd LIFe jump into the dark (Shinji Aoyama, 1997),
introduced by the director, $10, 6:30
Friday, April 22 ONMYOJI (THE YIN YANG MASTER) (Yojiro Takita, 2001),
introduced by David B. Lurie, $10, 6:30
---
THIS OR THAT!
The Zipper Theatre
336 West 37th St. between Eighth & Ninth Aves.
212-563-0480
http://www.thisorthat.tv
http://www.zippertheater.com
Friday, April 15
and
Friday, April 22 Coney Island's hottest show comes to Manhattan,
featuring Fredini, Julie, Bambi, Bunny and Fisherman's Xylophonic Burlesque
Orchestra, the World Famous Pontani Sisters, Miss Dirti Martini, Jonathan
Nosan of Acroback, Bradford Scobie, and more
---
LITERARY ANIMALS: AN AFTERNOON AT THE ZOO
Central Park Zoo
830 Fifth Ave. at 64th St.
Admission: free with zoo admission of $6 adults, $1 children 3-12
212-861-6030
http://nyzoosandaquarium.com/5719085
http://poetshouse.org/progcoming.htm
Saturday, April 16 With Sandra Alcosser and Joseph Bruchac, 2:00 pm
---
BORDERS BOOKSTORE EVENTS
Park Avenue (PA)
461 Park Ave. between 57th & 58th Sts.
Kips Bay (KB)
Second Ave. at 32nd St.
Wall Street (WS)
100 Broadway between Wall & Pine Sts.
Shops at Columbus Circle (CC)
212-980-6785
Admission: free
http://www.bordersstores.com/events/events.jsp
Saturday, April 16 Erasure, CC, 4:00
---
BREWTOPIA
Metropolitan Pavilion
125 West 18th St. between Sixth & Seventh Aves.
Admission: $40
877-772-5425
http://metropolitanevents.com
http://brewtopiafest.com
Saturday, April 16 Craft beer festival, featuring lectures, live
music, demonstrations, and samples from dozens of breweries, including Dark
Star, Magic Hat, Smuttynose, Brewery Ommegang, Fuller's, Rogue, Warsteiner, Brouwerij Westmalle, Cricket Hill, Shmaltz, Original Sin, and many more, 1:00 ­ 5:00, 6:00 ­ 10:00
---
WEEKEND STREET FAIRS/FESTIVALS/PARADES/CARNIVALS
All events approximately 11:00 am - 6:00 pm unless otherwise noted
Admission: free
http://www.nyctourist.com/st_fairs_calendar.htm
http://nycstreetfairs.com/sched.html
'Tis just about the season for inexpensive makeup, mozzarepas, UGMO
(unidentified grilled meat object) on a stick, sausage and peppers, cheap
underwear and carpets, wicker baskets, and so many other things you don't
really want or need but secretly desire.
Saturday, April 16 Fifteenth Annual Upper Broadway Spring Festival:
Broadway between 110th & 118th Sts.
Saturday, April 16 Earth Awareness Day Festival: Waverly Pl. between
Broadway & Fifth Ave.
Sunday, April 17 Fourteenth annual West Side Spring Festival:
Broadway between 96th & 110th Sts.
---
GOTHAM MOTORCYCLE CLASSIC
Intrepid Sea-Air-Space Museum
Pier 86, West 46th St. & 12th Ave.
Admission to museum: $16.50 for adults; free to $11.50 depending on
children's ages
Everything else: free
212-245-0072
http://www.intrepidmuseum.org/programs_default.html
Saturday, April 16
and
Sunday, April 17 Harley-Davidson and Indian bikes from the WWII era
and more
---
CULTURAL WORLD OF ISLAM FESTIVAL
Symphony Space
Leonary Nimoy Thalia unless otherwise noted
2537 Broadway at 95th St.
212-864-5400
http://www.symphonyspace.org
Saturday, April 16 Afghan Tales: Idries Shah, for ages five and up,
$14, 11:00 am
Sunday, April 17 Marcel Khalife Voyageur, $10, 2:00
Tuesday, April 19 THE BRIDGE OF BOSNIAN BLUES and WHOSE IS THIS
SONG?, $10, 7:00
Thursday, April 21 From Bukhara to Beirut: Sung Poetry from the
Islamic World, $15, 8:00
Sunday, April 24 LEGONG: DANCE OF THE VIRGINS, and RASINAH: THE
ENCHANTED MASK, $10, 2:00
Tuesday, April 26 FROM AFRICA TO INDIA: SIDI MUSIC IN THE INDIAN
OCEAN DIASPORA and COLOURS OF THE EARTH, $10, 7:00
Wednesday, April 27 Selected Shorts: Stories of the Islamic World,
from online magazine "Words Without Borders," with Shohreh Aghdashloo, Aasif Mandvi, and Arian Moayed reading stories by Saadat Hasan Manto, Kader
Abdolah, and Francois Devenne, Peter Jay Sharpe Theater, $21-$25, 6:30
---
THINGS TO DO IN CENTRAL PARK
Admission: free unless otherwise noted
http://www.centralparknyc.org/thingstodo
Saturday, April 16 Hallett Nature Sanctuary Tour: Teen-led Tour, meet
at the Dairy midpark at 65th St., 212-794-6564, 11:00 am
Saturday, April 16 Dairy Berry Fields Tour: Teen-led Tour, meet at
the Dairy midpark at 65th St., 212-794-6564, 1:00 pm
Sunday, April 17 A Road Once Traveled, meet inside the park at 110th
St. between Fifth & Lenox Aves., 212-860-1370, 12 noon
Saturday, April 23 Reduce, Re-Use, Recycle family workshop, Dana
Discovery Center inside the park at 110th St. & Lenox Ave., $15 per family,
preregistration required, 10:00 am
---
2005 MS WALK DAY
National Multiple Sclerosis Society
212-463-9791
http://nationalmssociety.org/nyn/event/event_detail.asp?e=6536
Sunday, April 17 Walk to raise money to help fight Multiple
Sclerosis, starting at John & Water Sts.
---
PASSOVER ROCK CONCERT FOR FAMILIES
The Jewish Museum
1109 Fifth Ave. at 92nd St.
212-423-3337
http://www.thejewishmuseum.org
Sunday, April 17 Interactive performance with Jonathan Bayer & the
Acoustic Roosters, $12, 2:00
---
WORDS AND WINE
Makor
Steinhardt Building, Lecture Hall
35 West 67th St. between Amsterdam & Columbus Aves.
212-601-1000
http://www.makor.org
Monday, April 18 An Evening of Sephardic Literature, with Ilan
Stavans and Ruth Knafo Setton, with complimentary wine, $12 in advance, $15
at the door, 7:30
---
UNTERBERG POETRY CENTER READINGS
92nd St. Y, Kauffman Concert Hall
1395 Lexington Ave. at 92nd St.
212-415-5500
http://www.92ndsty.org/calendar/calendar.asp
Monday, April 18 Pico Iyer and Jeanetter Winterson, $16, 8:00
Thursday, April 21 Michael Ondaatje and James Salter, $16, 8:00
---
JEWISH COMPOSERS FOR THE MUSICAL STAGE
Center for Jewish History
15 West 16th St. between Fifth & Sixth Aves.
917-606-8200
http://cjh.org
Wednesday, April 20 Concert featuring the music of Burton Lane,
presented by the American Jewish Historical Society, $10, 7:00
---
DOWNTOWN THIRD THURSDAYS
26 Broadway Lobby, Standard Oil Building
Admission: free, but reservations required
212-835-2789
http://www.downtownny.com/?sid=35&cell=2005-4-21
Thursday, April 21 Phillip Lopate, the Dilemma of Waterfront
Development, 7:00
---
BEFORE AND AFTER: JEAN-LUC GODARD
BAMcinematek
BAM Rose Cinemas
Brooklyn Academy of Music
30 Lafayette Ave. between Ashland Pl. & St. Felix St.
April 21-26
Tickets: $10
718-636-4100
http://bam.org/film/Godard.aspx
Thursday, April 21 BRITISH SOUNDS (SEE YOU AT MAO) (Jean-Luc Godard & Jean-Henri Roger, 1969), A WEEKEND AT THE BEACH (Ira Schneider, 1984), and GODARD 80 (Jon Jost, 1980), 7:00
Friday, April 22 DETECTIVE (Jean-Luc Godard, 1985), 7:00
Saturday, April 23 KING LEAR (Jean-Luc Godard, 1987), 2:00, 4:30,
6:50, 9:15
Sunday, April 24 FOR EVER MOZART (Jean-Luc Godard, 1987), 2:00, 4:30,
6:50, 9:15
Monday, April 25 HAIL MARY (Jean-Luc Godard, 1985), 4:30, 6:50, 9:15
Tuesday, April 26 Godard Shorts, including TOUS LES GARCONS
S'APPELLENT PATRICK (1957), UNE HISTOIRE D'EAU, CHARLOTTE ET SON JULES
(1958), and DANS LE NOIR DU TEMPS (2002), 4:30, 6:50, 9:15
---
MANHATTAN VINTAGE CLOTHING SHOW
Metropolitan Pavilion
125 West 18th St. between Sixth & Seventh Aves.
Admission: $20 ($5 coupon available at Web site)
518-434-4312
http://metropolitanevents.com
Friday, April 22
and
Saturday, April 23 Vintage Clothing & Textile Show & Sale, featuring
eighty exhibitors
---
NATIONAL DANCE WEEK ­ NYC: HIGHLIGHTS
Multiple venues
April 22 ­ May 1
Registration fee: $50
http://www.ndw-nyc.org
Friday, April 22 Bronx Academy of Arts and Dance, featuring Arthur
Aviles Typical Theater, 8:00
Friday, April 22 Earl Mosley's Diversity of Dance Festival, Joyce
Soho, 8:00
Saturday, April 23 WALKING FLOWER (Chang Zhang, 2004), director
present, the Puffin Room, 435 Broome St., 3:00
Saturday, April 23 Urban Ballet Theatre, Queens Theatre in the Park,
8:00
Monday, April 25
through
Saturday, April 30 The Radio City Rockette Experience Workshops,
multiple venues, for ages ten and up with dance training, preregistration
required, 212-377-2060
Tuesday, April 26 DONALD McKAYLE: HEARTBEATS OF A DANCEMAKER, Dance
Theatre of Harlem, 466 West 152nd St., 2:30
Wednesday, April 27 BOMBA, with producer Roberta Singer present,
Musica, 622 Broadway, Brooklyn, 3:00
Wednesday, April 27 Dancewabe Kids Company, Berkeley Carroll School
Dance Studio, 181 Lincoln Pl., Park Slope, 5:45

All contents copyright 2005 by Mark Rifkin and twi-ny. All rights reserved.
Contents may not be reprinted without written permission. Please note that
events, dates, and prices are subject to change.
---------------------------------------------------------
Send all comments, suggestions, reviews, and questions to Mark Rifkin at
twi-ny@nyc.rr.com.
Please note that some e-mail clients may wrap links, so be sure to enter
them fully into your browser.
---------------------------------------------------------
To subscribe to this list, please e-mail the administrator at
twi-ny@nyc.rr.com with the word Subscribe in the Subject line; be sure to
ask for back issues, which are free as well. To unsubscribe from this list,
please think it over twice before e-mailing the same address. Please let us
know what you didn't like about this forum and we'll do our best to correct
it in the future -- if we agree with you. If you would like to see something
covered in a future issue, please let us know. Without you, there is no need
for us to exist.
---------------------------------------------------------